Android smartphones have progressed a lot these years. Just a few years ago, Android was an inferior OS compared to Blackberry, iOS and Symbian. But now, it is the fast growing and most popular mobile operating system in the world.
Android phones have progressed in many different ways. Screens are bigger and higher resolution, processors are quad-core clocked higher than 2.5 GHz and cameras can record 4K UHD thanks to 16 MP sensors.
Also Read: Microsoft "Next Lock Screen" APK Download & Install
The latest achievement by a few manufacturers is the announcement of phones with 2K displays. A 2K screen has a resolution of 1440 x 2560 pixels and is currently the most dense screen you can find on a smartphone.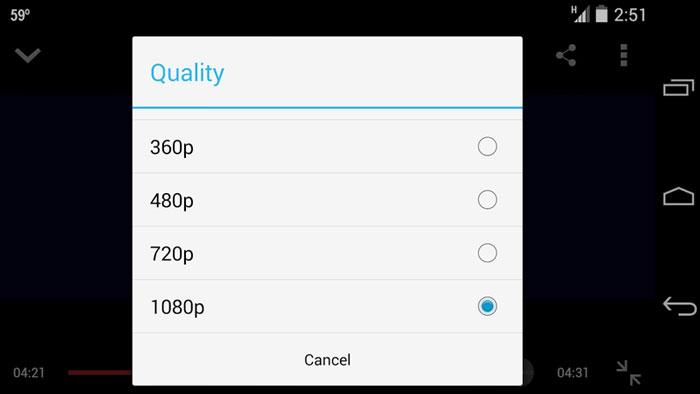 Until now, there are a few phones that have QHD displays such as the LG G3, Oppo Find 7, Samsung Galaxy S5 LTE-A, Samsung Galaxy S5 Plus and Samsung Galaxy Note 4.
The YouTube app on Android has recently enabled 1080p FHD resolution videos. This is great for all users who have a Full HD smartphone but not so great for 2K smartphone owners.
Luckily, the YouTube has been updated and now it supports 2K QHD videos on mobile phones. According to users, YouTube v.5.9.0.13 APK has the option to enable 1440p resolution from the Settings menu and many people have been able to do so with their Galaxy S5 Prime and Note 4 devices.
Download YouTube app with 2K QHD video support: youtube-5.09.0.13.apk
Also Read: PhotoMath App iOS & Windows Phone Download and Install
Once you have downloaded the APK file, you can install it as a normal application. Open it and enjoy 2K QHD videos on your smartphone.