A few days ago, Google released the latest app version of its popular video watching site, YouTube. Since people are using more and more phones to watch YouTube videos, it is better to watch them using an app rather than going to the desktop version of the site.
Latest reports say that videos are being watched more using the app than from the main desktop version. A few days ago, YouTube 6.0 app for Android was released.
Also Read: Download Samsung Galaxy Note 4 Apps and Wallpapers
The new version of of the app brought a lot of changes including more options in the Settings menu of the app, better performance and Material Design. Thanks to the new Material UI, the navigation bar color changes on every channel, according to the logo and banner color.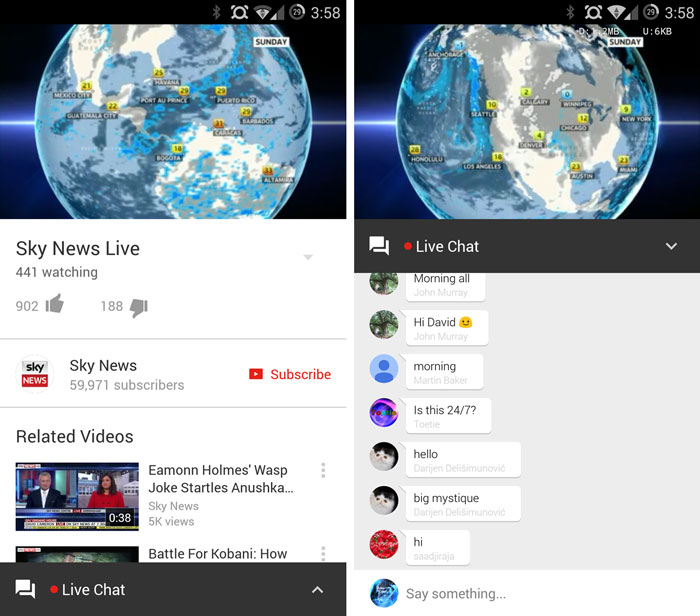 One thing that has been missing on the Android app is the ability to comment during a live video or livestream. If you are watching a livestream using your computer, you can see the comment section on the right side of the screen being updated every second with new comments.
When you see a live video using the old version of the YouTube app, you will be able to see the video but the comment section will say "blocked". So even though you can comment if you are using a computer, you are unable to do so if you are using the YouTube app.
Also Read: How to Create Passwords for Android Apps and Fake Force Close Them
Another change that YouTube 6.0 brings is the ability to write and post comment an a live video. When you open the video, you will no longer see the "Comments Blocked" sign. Instead, it will say "Live Chat" and you will be able to comment freely.
Download
You can download the YouTube 6.0 APK file directly from the Play Store. You can also download and install the APK file. You can download it on the link above.