Apple is pushing iOS 9.2 to all compatible iPhones today and all devices running on iOS 9.1, 9.0 and older versions can update now through OTA. Previous iOS updates, iOS 9.0 and 9.1 brought many new features, options and some new applications. But as with every update, users started to report problems with their devices, mostly lag issues.
iPhone 6 Plus owners started reporting serious lag and performance issues after updating to iOS 9.1 but it looks like the issue is no longer appearing on iOS 9.2. But iPhone 6 Plus owners are not the only ones to be happy about iOS 9.2.
This update has more to offer. Weighing 264 MB, iOS 9.2 improves Apple Music by making it easier to create playlists and save songs offline. There is a Top Stories section in Apple News so you can keep up to date with latest news.
The iBooks app now supports 3D Touch so you can use your iPhone 6s and iPhone 6s Plus to peek and pop. iOS 9.2 also includes stability improvements for some apps – Safari and Podcasts.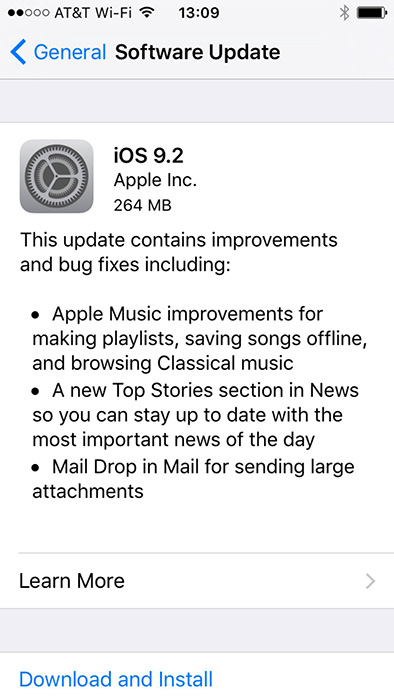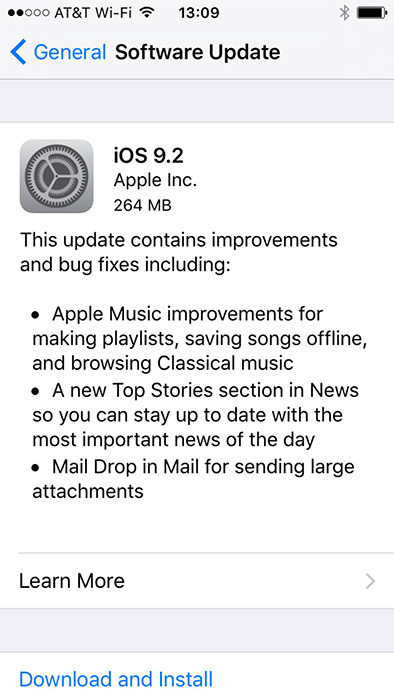 The list goes on and on and it would take a long time to list them all here. You can check the full change log at the source link below if you are interested. But the best thing to do is to update your own iPhone to iOS 9.2 if you haven't done so already. Simply go to Settings > General > Software Update and you will be able to download the latest firmware.