Vine is one of the most popular video sharing sites after YouTube and Instagram. Compared to unlimited length videos on YouTube and 15 second videos on Instagram, Vine supports only videos up to 6 seconds long.
Six seconds are not always a bad thing. This has made a lot of people think and create awesome things in just 6 seconds and if you have watched Vine videos at least once, you know how entertaining and addicting they are.
Also Read:Download Retro Nintendo Duck Hunt for Android & iOS
People get addicted to Vine videos and many even accept that they spend hours watching Vine videos. Hey, there's a great news for everyone who owns an iOS 8 device or iPhone 6 & iPhone 6 Plus.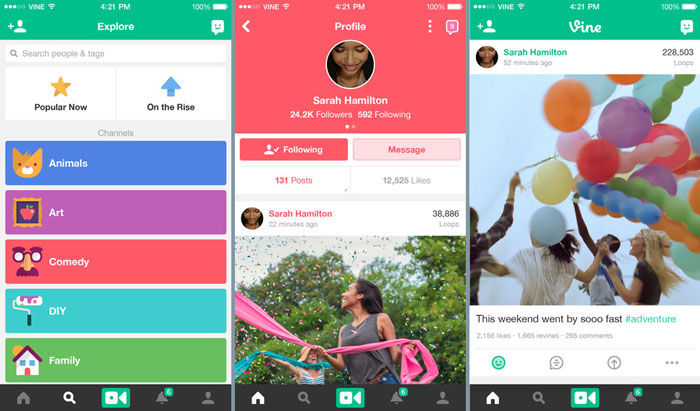 Vine on iTunes has just received a change and has been updated to v3.0.0. Most of the changes are related to iOS 8 and two newly released Apple devices, iPhone 6 and 6 Plus.
Vine v3.0.0 brings a few changes and improvements that will make the experience better. There is a "+" button at the top of every video that you can press to follow your favorite channels. All videos of channels you follow will appear on the home feed.
Also Read: Candy Crush MOD (Extra Time, Bomb Delay & Extra Moves)
There is a new extension that makes sharing videos directly from the Camera roll very easy. Also, the app has been updated to fit on the bigger displays of Apple iPhone 6 and iPhone 6 Plus. The app no longer looks stretched or distorted.
Download Vine v3.0.0 optimized for iOS 8 and iPhone 6 & 6 Plus: link