Latest phablets, the Apple iPhone 6 Plus and Samsung Galaxy Note 3 have gone through the Will it blend test. The famous series on YouTube receives millions of visitors every day thanks to the powerful BlendTec blender which is able to blend almost everything.
Starting with paper, aluminum objects like cans, music discs, golf balls. fruits, smoothies and of course, smartphones. Tom from Will it blend series has blended many smartphones in the past including the Apple iPhone 4, 4S, iPhone 5, Galaxy S3 and Galaxy S4.
Also Read: Best and Funniest iPhone 6 Plus BendGate Jokes
Now, Tom has tried to blend two of the most popular phablets at the moment. The Apple iPhone 6 Plus and Samsung Galaxy Note 3. There have been a lot of reports for iPhone 6 Plus units bending because of weak and thin aluminum body. Let's see how the plastic body of the Galaxy Note 3 handles against the aluminum body of the iPhone 6 Plus.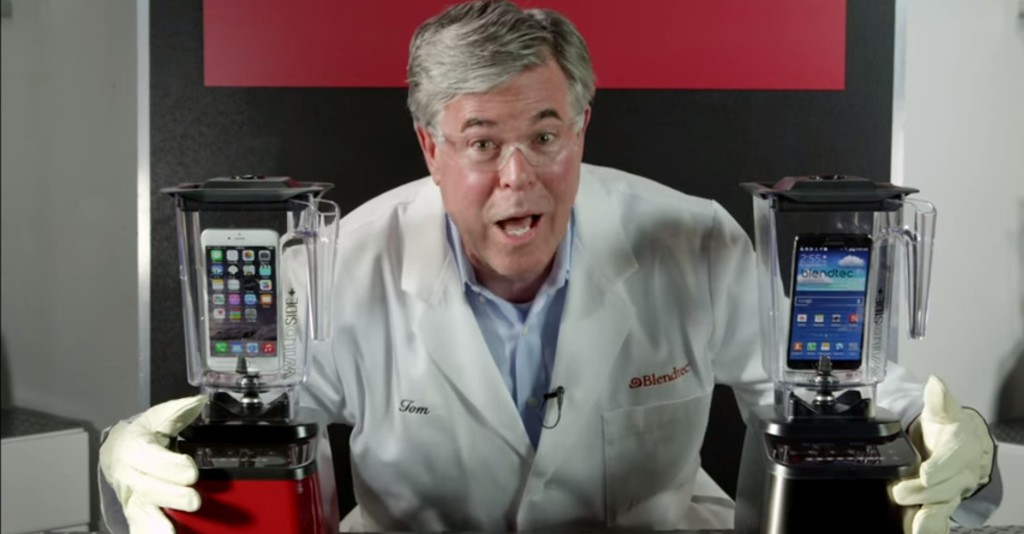 As always, Tom begins the video with the traditional question: Will it blend? That is the question. Then, he pulls out from his pocket a Nokia Lumia device. He didn't intend to pull the Nokia so he threw the phone on the ground and the screen got completely cracked.
Then, he got the Galaxy Note 3 and the iPhone 6 Plus. He was having difficulties pulling the Apple phablet from the pocket because of how big the phone is. Once both devices are inside the BlendTech blender, the fun begins. The first one to give up is the Note 3 which splits into three part:s body, back cover and battery.
Also Read: Do Android Phones Bend? Galaxy S5, Note 3, HTC One M8, Nokia Bend Test
The iPhone manages to survive a little longer but at the end they are both turned into ash and dust. And to end it, Tom says: Phablet smoke. Don't smell it.