The Redmi Note 6 Pro has received its first MIUI build based on Android 9.0 Pie. Xiaomi has released MIUI 10.3.2 for all Redmi Note 6 Pro variants all around the world and users can install it right now. This update optimizes the system performance and has made the experience better. Furthermore, MIUI 10.3.2 brings enhanced stability and security. As reported, the user interface is very similar and there is no change to the camera app (cam2API). The update can be obtained through OTA. All you have to do is to go to Settings > About Phone > System Update. If your phone is eligible for the new version, you can download and install it.
If it says that no updates are available, you can manually download the ROM and flash it through "Local Update". The ROM weighs in at 1.6 GB and can be easily installed. If you have not received the OTA update and cannot wait to update your Redmi Note 6 Pro to MIUI 10.3.2, follow the guide below to learn how to manually flash the update.
How To Install MIUI 10.3.2 ROM on Xiaomi Redmi Note 6 Pro
The update process is very simple and can be done through official software. This method is endorsed by Xiaomi on their official page, so the risks of something going wrong are nonexistent, as long as you have the correct firmware.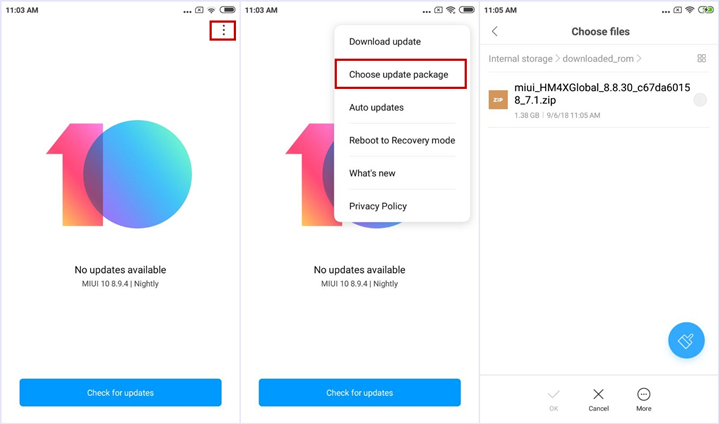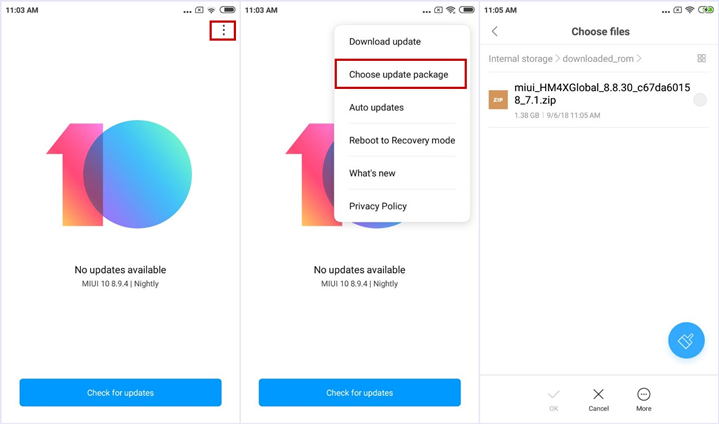 Make sure to download the latest version of the update. Furthermore, make sure the ROM you have downloaded is specifically designed for your phone's model number. If you use the wrong ROM (designed for another phone), you can brick your phone.

Transfer the ROM file to the internal storage of the phone. You need to put the update in a folder called "downloaded_rom". If you put the update in any other location, the phone might not recognize the file.

Go to Settings > About Phone and tap on System update. A screen will appear showing the current MIUI version currently installed on your phone. Do not worry if it says that no updates are available. We will manually flash the new update.
Tap the three little dots located at the top right-hand corner of the phone. Tap on Choose update package.

The phone will display a list of all available updates that it manages to find. In this case, it will show "miui_HMNote6ProGlobal_V10.3.2.0.PEKMIXM_f6f2899114_9.0.zip". Select it.
The phone will automatically flash the new update. The installation process might take a moment, so please be patient. Once the phone has been updated to MIUI 10.3.2, it will automatically restart.
Enjoy the MIUI Pie experience on your Xiaomi Redmi Note 6 Pro. If you have any issues or problems with the update process, please let us know below.