If you always wanted the official HTC Sense lock screen to be available on the Play Store, your moment has come. Now you can download and install the HTC Sense lock screen application directly from the Play Store. HTC is known to create some great and beautiful user interface elements and the lock screen is certainly one of them.
HTC Sense lock screen has always been wanted by Android phone users because it is simple yet attractive. It has a clock widget on top left corner and weather widget on top right corner. The weather icon is minimalistic and looks quite nice. Then there are all the notifications below which can be easily accessed.
Also Read: How To Dual Boot ROMs on HTC One M8 (MultiROM)
Recently, HTC is doing the same thing as Google. A few months ago Google released its official launcher on the Play Store so every device can install it, even if it isn't running AOSP stock Android. Then, HTC released its own Blinkfeed launcher on the market.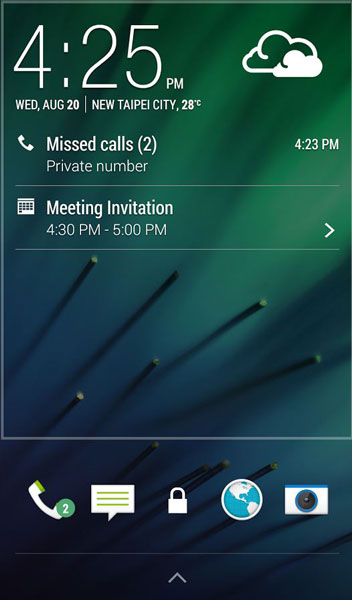 Now, it released the lock screen application. One thing though is that the app is not compatible with all devices. It is compatible and can be downloaded only on HTC phones. Other handsets are not supported. This is the opposite of what Google did. By making the app available for all phones, it increases the popularity of it.
Also Read: HTC Letters On The Back Of The One M8 Are Falling Off
Nonetheless, simply the fact that HTC Sense lock screen app is now on the Play Store means that it is going to be easier for developers to port it to non-HTC devices. Download HTC Sense lock screen app.