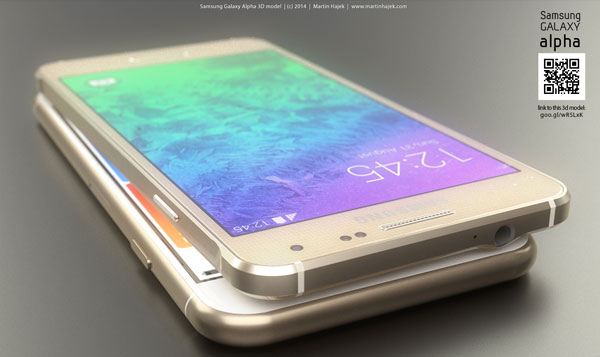 Check out the latest form factor, size and body comparison of the Samsung Galaxy Alpha against the upcoming iPhone 6. The Samsung Galaxy Alpha was announced only a few days ago and it is Samsung's first phone to have aluminum parts. Samsung created the phone as a direct competitor to the iPhone 6, the upcoming flagship Apple device.
The Samsung Galaxy Alpha has a 4.7″ HD Super AMOLED display, 2 GB RAM, 12 MP camera, Snapdragon 801 or Exynos 5430 Octa chipset and 1860 mAh battery. The biggest feature of the Galaxy Alpha is the aluminum body. It is the first phone from Samsung to have metallic parts.
Also Read: iPhone 6 Will Have 1472 x 828 Screen Resolution
Actually, only the sides are made from high quality aluminum while the back is the same as back cover of the Galaxy S5. The iPhone 6 will have  a 4.7″ and 5.5″ displays, A8 dual core chip with more than 1 GB RAM, 8 MP or 13 MP camera and a bigger battery than the iPhone 5s.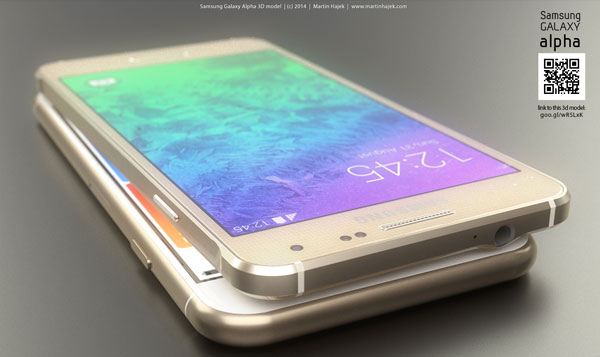 Specifications aside, lets take a look at the design of these two phones, the Galaxy Alpha and iPhone 6. As mentioned above, the Galaxy Alpha is not made entirely of aluminum. Only the sides are metal while the back cover has a soft leather feel. The iPhone 6 will be made entirely out of aluminum. The iPhone 5 and 5s were mostly aluminum expect the top and the bottom of the back which were glass.
Also Read: Why You Should & Shouldn't Buy Samsung Galaxy Alpha (Reasons)
The Galaxy Alpha is the thinnest smartphone Samsung has ever created. It is only 6.7 mm thick while the iPhone 6 will be around 7 mm thick. Here are a few photos comparing the iPhone 6 against the Samsung Galaxy Alpha. You can clearly see Apple's approach to rounded edges. Go here to all the photos in full resolution.