How to jailbreak iPhone 6 Plus, iPhone 6, iPhone 5S, 5C, 5, 4s, iPad Air, iPod on iOS 8 or iOS 8.1 using Pangu8. Every time a new iOS version gets announced, Apple fans get excited about all the features and changes that it brings.
iOS 8 is a very good mobile operating system. It is fast, smooth, stable and very simple so first-time smartphone owners will have it easy to learn how to use their iPhone.
Also Read: How To Enable Location Sharing on iOS 8 (Send My Current Location)
But those who have been using Apple products for a few years, they wait for another thing when a new iOS version gets released. They wait for the untethered jailbreak.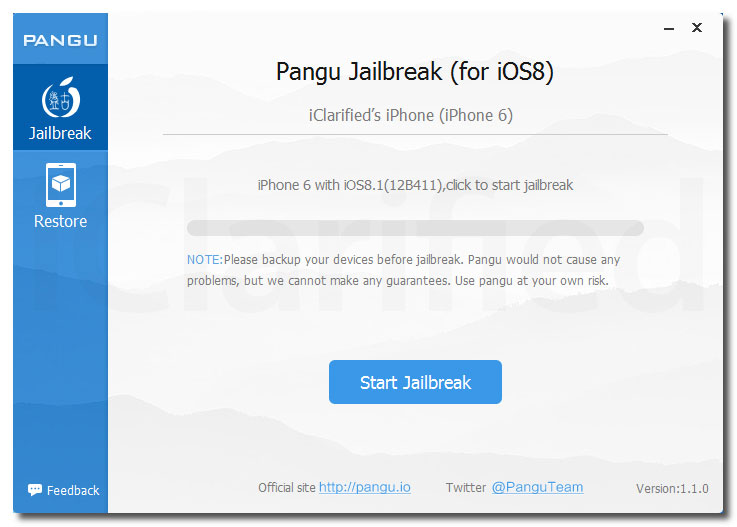 Since iOS is closed source, users cannot customize their devices. They cannot install launchers, themes and mods. Jailbreak offers these features. Previously, it has taken months for developers to create a jailbreak. It took months for iOS 6 and iOS 7 to receive an untethered jailbreak.
The surprising thing is that developers were able to jailbreak iOS 8 within one month of official release. The jailbreak tool is called Pangu8 and it can jailbreak all iOS 8 devices on Mac and Windows.
Pangu8 is a powerful tool which can jailbreak your Apple device running iOS 8 or iOS 8.1 in no time. The process is quite simple. You download the Pangu8 tool, extract the file, enable Airplane mode and turn Find My iPhone off, launch the tool and follow the instructions.
And the good thing is that it works on Mac X OS and Windows. How to jaibreak iOS 8 and iOS 8.1 on Windows and Mac.
Also Read: How To Prevent WireLurker Malware From Infecting iOS Devices
Now you can enjoy your free iPhone. You can install themes, mods and applications that aren't available on the App Store.