The Nexus 6 is one of the biggest phones you can find on the market. It is the successor of the cheap and popular last year's flagship device, the Nexus 5. Google launched the Nexus 6 along the Nexus 9 which comes with the anticipated Tegra K1 chipset.
The Nexus 6 has all the goodies that you can expect from a 2014 high-end flagship device. The specifications include the Snapdragon 805 chipset with four Krait 450 cores clocked at 2.7 GHz and Adreno 420 graphics unit, 13 MP rear main camera which can record 4K UHD videos, 3 GB RAM, 32 GB and 64 GB of memory space, non-removable 3220 mAh battery, Android 5.0 Lollipop and a huge 5.9 inch QHD Super AMOLED display.
Also Read: Yes! The Motorola Nexus 6 Is Water Resistant
One of the biggest surprises about the phone was the screen size. Comparing the difference of screen sizes of Nexus 4 and Nexus 5, no one expected the Nexus 6 to have a gigantic 5.9 inch screen. This means this year there is no new Nexus smartphone, only a new phablet and  tablet even though Google likes to call it a smartphone.
Since Google calls it a smartphone, here are a few body size comparisons of the Nexus 6 against some of the most popular Android devices such as the Samsung Galaxy S5, Samsung Galaxy Note 4, Nexus 6 and even the Apple iPhone 6 and 6 Plus.
Nexus 6 vs. Nexus 5 Size Comparison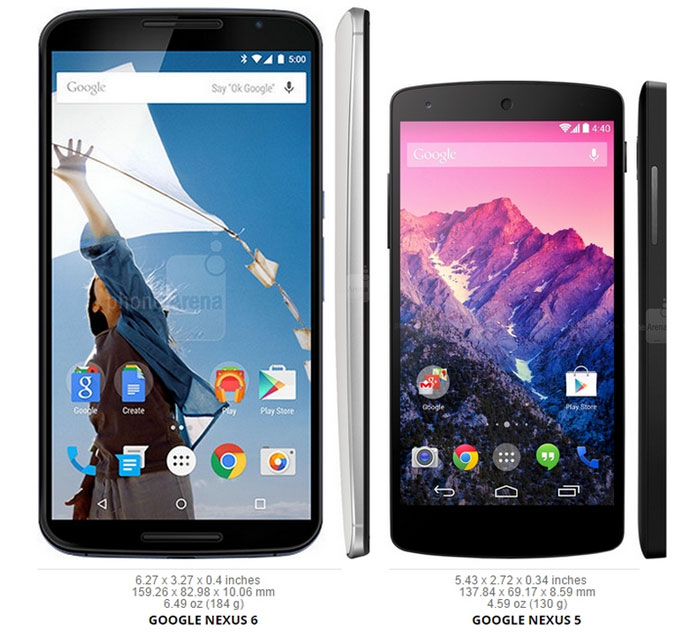 As mentioned above, the Nexus 6 has a 5.9 inch screen while its predecessor has a smaller 5 inch screen. The Nexus 6 is taller and wider than the Nexus 5 but 1.5 mm thicker.
Nexus 6 vs. Samsung Galaxy S5 Size Comparison
The Samsung Galaxy S5 on the other hand has a 5.1 inch Super AMOLED display. It is taller, wider and thinner than the Nexus 5 but the Nexus 6 simply dwarfs it.
Nexus 6 vs. Samsung Galaxy Note 4 Size Comparison
And when you thought there was no device bigger than the Galaxy Note 4. It has a big 5.7″ display. This time, the Nexus 6 doesn't look very big.
Nexus 6 vs. Apple iPhone 6 Size Comparison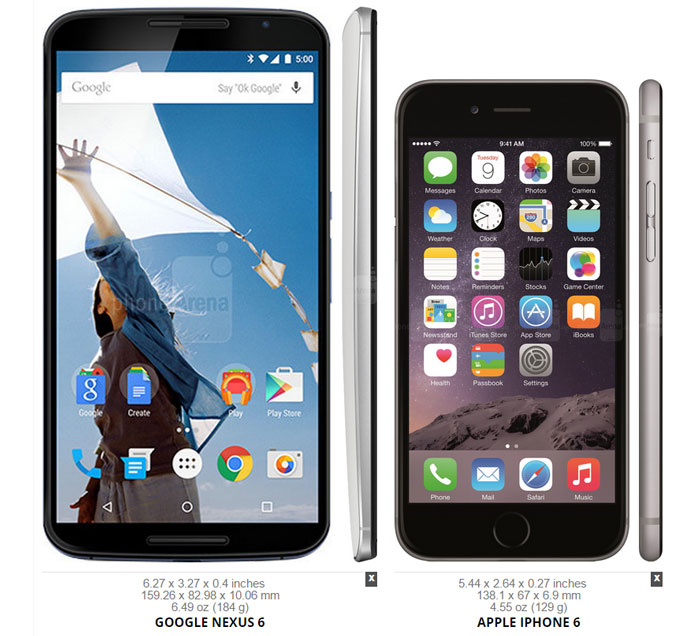 The 4.7 inch screen of the iPhone 6 is a big difference over the 4.0 inch screen of the old iPhone 5s. The Nexus 6 is 20 mm taller, 15 mm wider and 3 mm thicker.
Also Read: How Good Is Nexus 6 Camera (Photo Samples)
Nexus 6 vs Apple iPhone 6 Plus Size Comparison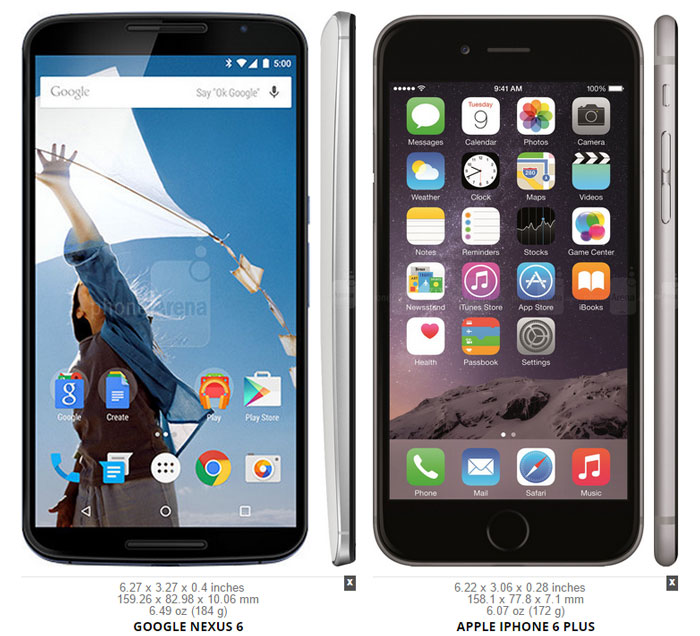 The iPhone 6 isn't the only device that Apple announced. The 6 Plus is the bigger brother of the 6. It has a 5.5 inch screen which is 0.4 inch smaller than the Nexus 6.