Apple has just started seeding iOS 8.1 update to all supported devices. The iOS 8.1 update fixes a lot of problems and bugs that are present on 8.0.2 and especially on 8.0.1.
Some of the most important changes are stability improvements, better battery life, fixed lag problem and camera not working. Along bug fixes, iOS 8.1 brings the long-awaited Apple Pay feature to iPhone 6 and iPhone 6 Plus. With Apple Pay, you can make payments directly from your phone without having to use a credit card. All this is made possible thanks to the NFC chip that both versions of iPhone 6 have.
Also Read: How To Check How Much Mobile Data Is Used on iOS 8
iOS 8.1 brings back Camera Roll and allows access to iCloud Photo Library beta and also support for SMS messaging on iPad and Mac. If you have a device that already has iOS 8, 8.0.1 or 8.0.2, you can easily download and install 8.1.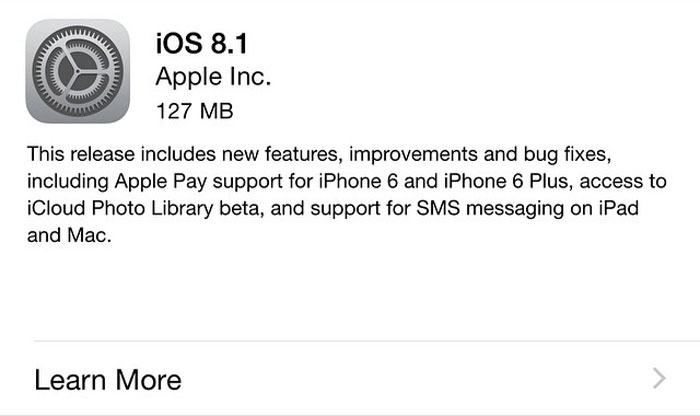 There are two ways of downloading and installing iOS 8.1 update on your iPhone, iPad or iPod.
OTA (Over The Air)
The best and fastest way is by installing the update OTA. You don't need any cables or a computer. You only need internet access.
1. Go to Settings and tap on General.
2. Find and choose Software Updates.
3. If your phone is eligible, a warning will show up saying that iOS 8.1 is available.
4. Click Install. This will start the downloading process. Once the update is fully downloaded, it will automatically install. During this process, your device will reboot a few times.
iTunes
The second way requires a USB cable and a computer with iTunes software installed.
1. If you don't have the program installed, download iTunes here.
2. Connect your phone to your computer using the USB cable.
3. Open iTunes, select your Apple device and click on Updates.
4. If you device is eligible, the warning will show up again.
4. Click Install. iOS 8.1 will start to download.
Also Read: How To Completely Delete Photos iOS 8 Recently Deleted
Warning: Make sure not to disconnect your phone when the update is being installed because you can break your phone.