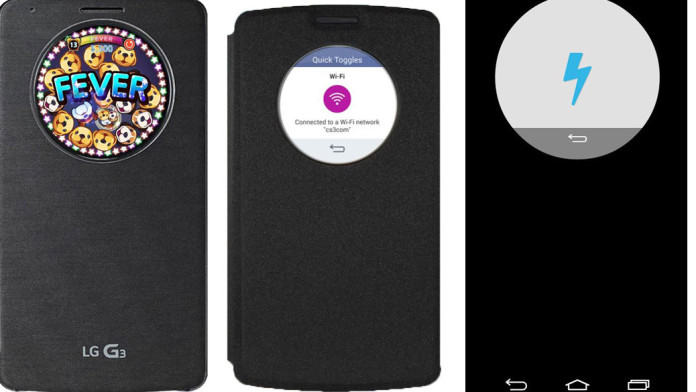 Best applications you can download now that are compatible with Quick Circle LG G3. Quick Circle is a new and interesting case designed for the LG G3. The design concept is the same as Smart Cover for Samsung Galaxy devices. It is a normal case with a front protective material. But the front is not totally covered.
Just like Smart Cover which has a rectangle cutout, Quick Circle case has a circle-shaped cutout. It is used for many things like checking the time, replying to messages and calling people.
Also Read: How To Enable Lock Screen Weather Effects on LG G3
But these are only basic features that the LG G3 has built-in. You can download extra third-party applications from the market which are compatible and will add more functions to the LG G3 Quick Circle case. Here are the best apps you can download
Quick Circle PuppyPOP
PuppyPOP is the first game ever created for Quick Circle case. It is a fun little game where you have to match three or more blocks of the same color. You get more points for more blocks matched. If you match five blocks you get a special item.
It is an interesting game that can be played by everyone and no one will notice it because it will look like the phone is turned off because of the case.
Quick Circle Apps
It is a collection of all stock features of the case. You don't need to open many applications now. This app is all in one.
Quick Torch
Quick Music
Quick Calendar
Quick Notifications
Quick Toggles
Quick Stopwatch
Quick Calculator
Quick news
Quick Compass
Quick Dialer
Download Quick Circle app collection here
Quick Torch
Quick Torch is a simple yet useful application. It displays a switch for the LED flash. Simply tap the button and the flash will turn on and off. So you can activate flash directly from the Quick Circle case of the LG G3. The user interface is elegant and simple.
Also Read: Download AOSP Dialer & People Contact Apps on LG G3
Rolex for Quick Circle
As the name says, it adds Rolex watch face to the case. If you are bored with stock LG skin look, download this module, activate it and you will have a Rolex watch on your LG G3.
Download Rolex watch face here
These were the best and most useful applications for LG G3 with Quick Circle case. If you have any other great recommendations let us know below.