WhatsApp has just reached another big milestone. The popular mobile messaging app has crossed 600 million monthly active users. The company CEO announced this news on its official Twitter account. This is the biggest milestone of WhatsApp since it hit 500 million users a few months ago.
One thing you should pay attention is that there are 600 million active, not registered accounts. This means there are a lot more than 600 million accounts, but only 600 million people are active and are using the messaging app.
Also Read: Android L Will Be Officially Named Lemon Meringue Pie LMP
The app has become very popular for a very simple reason. It is free to send text messages to your friends and your family.You simply need to have a SIM card, import your contacts to the application and you are set. You can send text  messages for free to everyone you want for as long you have a SIM card and internet access.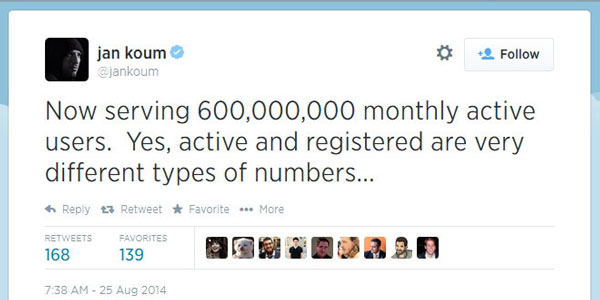 This service is especially popular on developing countries where carriers do not offer good contracts with unlimited messaging and minutes unlike developed countries. WhatsApp is the best and cheapest solution to send messages.
Also Read: Ice Bucket Challenge: Galaxy S5 vs. HTC One M8 vs. Lumia 930
With this rate, WhatsApp will hit 700 million users very soon, especially when considering the amount of smartphones which are being sold everyday on developed and developing countries.