WhatsApp is one of the most popular messaging apps for Android and iOS. It is used by hundreds of millions of users all around the globe on a daily basis. Originally released with only texting abilities, the acquisition by Facebook added new features including voice calling, video calling and WhatsApp stories, similar to Snapchat and Instagram stories.
A recent study has shown that more users are switching to WhatsApp and ditching the other messaging platforms. This means that more users are sharing sensitive and private information, and all of that can be found in their WhatsApp messages.
A recent update of the WhatsApp app for Android introduces a new feature called Fingerprint Lock. This option adds another layer of security to your messages. If someone is somehow able to unlock your phone using the correct PIN or pass code, they won't be able to go through your messages. The app will display a new lock screen asking for fingerprint verification.
How To Enable Fingerprint Lock on Whatsapp for Android
The company has already rolled out the update on the Play Store. Firstly, make sure you have the latest version of the app installed on your phone. Go to Play Store, find WhatsApp Messenger and make sure you are on version 2.19.308. This version is the latest one with support for fingerprint lock.
Once you have made sure you have the latest version of the app, go ahead and enable fingerprint lock.
Open WhatsApp, tap the three little dots on the top right corner. A menu will show up. Tap on Settings.
When the Settings menu shows up, tap on Account and then tap on Privacy.
Scroll down and you will see an option called Fingerprint Lock. It will say disabled. Tap on it and enable the Unlock with fingerprint option.
Verify your fingerprint, and the app will enable the extra security layer.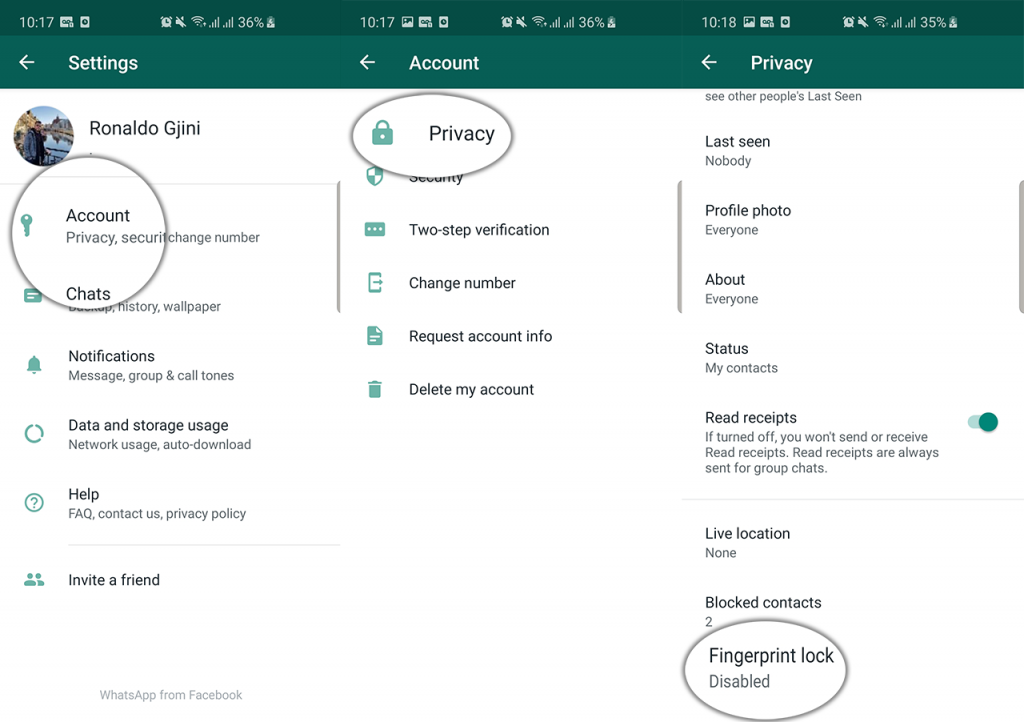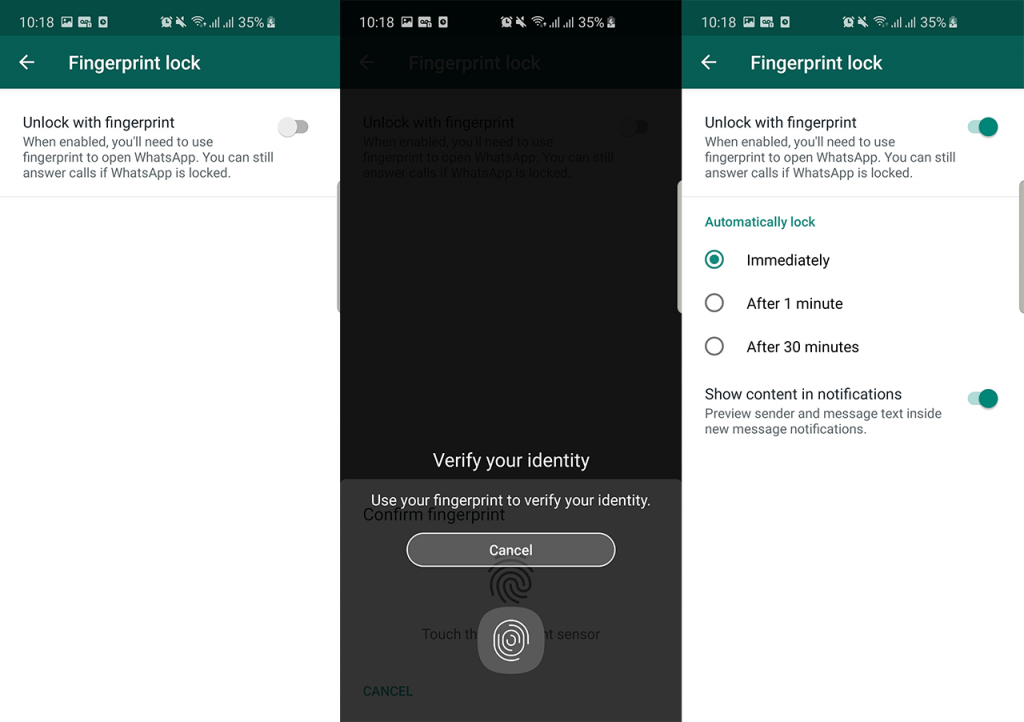 Fingerprint lock options
Additionally, the app offers some options that can be customized. You can choose the time when the app should be locked (immediately, after 1 minute or after 30 minutes). Furthermore, you can choose to show or block content in notifications. If this option is disabled, the app will not preview the messages in the notification panel.
Download WhatsApp 2.19.308 APK
If Play Store is saying you have the latest version of the app installed but you actually do not, then the update most probably hasn't rolled out yet in your region. To overcome this, you can download the official 2.19.308 APK file and manually install it.
WhatsApp Messenger 2.19.308 APK | Download
Download the APK file from the download link above. Go to the Downloads folder, tap on the file and select Install. Since the file is signed by WhatsApp Inc, it will replace the old version of the app and install the new one, without deleting any data.