How to check the camera firmware version of the Samsung Galaxy S5 and other Samsung devices like the Galaxy Note 3. The camera firmware is very important because it shows the version number of the app. So you know if you have the latest or an old camera app.
Samsung always improves all the applications of its phones. But one special application that the company always improves is the camera app. The tech giant improves the camera app by adding more features and overall making photo and video quality better.
Also Read: Download Galaxy S5 Themed Android L Keyboard App
Samsung is really focused on the camera app because the Galaxy S5 and Note 3 have been considered as the smartphones with the best camera on the world, so it makes sense to improve it more and more. But how to check the build number and firmware version of your Samsung Galaxy S5 and Galaxy Note 3?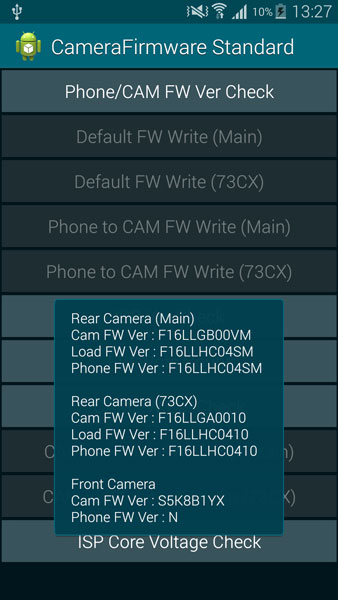 By knowing the camera firmware version of your Samsung Galaxy device, you know if you have the latest camera app version or not. Follow the guide below to check the firmware version of the camera app:
1. Open the dialer app and type the following number *#34971539#.
2. Once you have typed the number, Camera Firmware Standard menu will show up.
3. There are a lot of options like Phone/CAM FW Ver Check, ISP Ver Check, CAM FW CAL Check and more but you should focus on the first option.
4 Click Phone/CAM FW Ver check. This will show you all the information about the camera app version. You can see the firmware version of the rear and front facing camera.
Also Read: How To Increase Samsung Galaxy S5 Camera Quality For Better Videos And Photos
To change or update the camera app, you need to install another system firmware. You can do so by flashing a firmware through ODIN (tutorial) or by installing the APK file of the new camera app.