Side by side body and size comparison of the iPhone 6 and iPhone 5s. The iPhone 6 is just around the corner to be officially announced. Even though it hasn't been officially released by Apple yet, almost everything is known already about the successor of the iPhone 5s.
It will come in 2 variants: 4.7″ and 5.5″ displays, it will have A8 dual core chip with 1 or 2 GB RAM and it will have a new design with rounded corners. In fact, the rounded corners and the bigger screen are the biggest changes of the iPhone 6.
Also Read: Body & Size Comparison – iPhone 6 vs. Galaxy Alpha (Photos)
Since it will have a bigger screen, the overall dimensions will be bigger. So, it will be taller, wider but thinner. A lot of of fake iPhone 6 units have shown up but he latest unit which has the protruded camera lens has showed up. Here is a comparison side by side of the iPhone 5s and iPhone 6 where you can compare the size and body dimensions of both phones.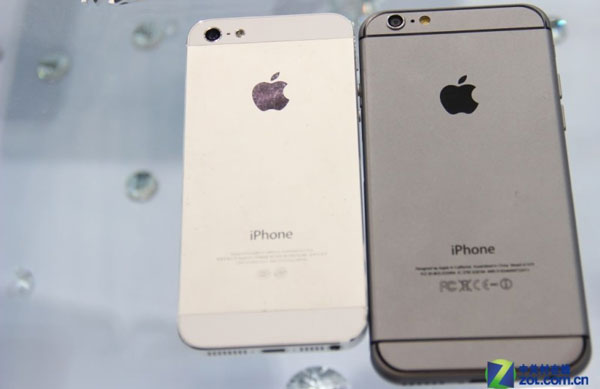 From the photos you can see the iPhone 5s and iPhone 6 lined up near each other. The iPhone 5s looks a lot smaller than its successor. It is shorter and narrower. Even though it is smaller, it is thicker. One thing that can be easily noticed is that the LED flash is not dual like on the iPhone 5s.
The dual LED flash was a big thing because it made pictures taken on dark places better. The power button is on the side now near the SIM card tray so users can easily reach it. Something that a lot of people are noticing is the protruded camera lens. It is slightly raised from the rest of the phone.
Also Read: How To Fix iPhone & iPad Battery Drain on iOS 8
Apple has to include a protruded camera lens because it has to make the iPhone 6 thinner. Eve though the entire phone is thinner than the iPhone 6, the camera can't go the same direction without loosing image quality.