Download File Explorer with Android L theme and Material Design. Since the release of Android L which introduced a new design for the operating system and applications, more and more apps are adapting to Material Design. This design is the latest interface introduced by Google on Android L.
It has simpler user interface and  a lot more vivid colors. Overall, it is a lot easier and more intuitive to use an app with Material Design. We have already many apps which have adapted to the new design including calculator, system sounds, calendar, music player, lock screen and even the entire theme. You can find all these applications here on the site.
Also Read: Download & Install Android L Dialer App
This time, a file manager has gone Material. A file manager is one of the most important applications of Android because it allows you to browse and find every file of the operating system. This has always been an advantage of Android over iOS and Windows Phone which have to be jailbroken in order to install a file manager while Android phones come with built-in file explorers.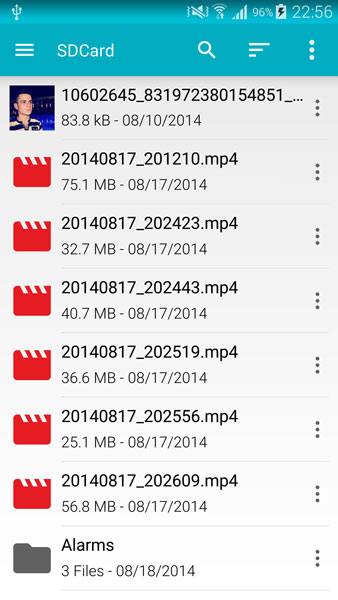 Sliding Explorer is a file manager which has recently added Material Design to its user interface. Sliding Explorer has all the features of a stock file manager plus extra options. You can enable Root Mode which will show all root files and enable Hidden Files which will show hidden files.
Also Read: How To Download and Install Full Android L Theme
You can enable  transparent bar which will turn the status bar color from black to the color of the app. This is a cool feature that Android L has. There are two Material Design theme options: Dark and Classic.
Classic theme is the default option which has a blue navigation bar and white background while Dark theme has a dark grey background. Download Sliding Explorer here.