The LG G3 has been considered by many as one of the best and greatest smartphones you can buy this year. And indeed, it is a great phone. It was the first device to come with the pixel dense QHD display, new camera with laser autofocus, redesigned user interface and a new body design.
Even though the LG G3 is made of plastic, the body is sturdy and doesn't feel cheap or make creaking noises like previous devices did. It keeps the rear power and volume buttons for easier reachability. The user doesn't have to move its hand to the top or the side to change the volume or to turn the phone on and off.
Also Read: Full List Of LG G3 Bloatware That Can Be Removed
Overall, the LG G3 is one of the best devices you can find at the moment and will make happy all normal people. However, there was something with the phone that for many end users was a deal breaker.
The phone could get rooted but not unlocked. Root access is more than enough for many users because all they want to use are root file explorers or premium backup apps like Titanium backup.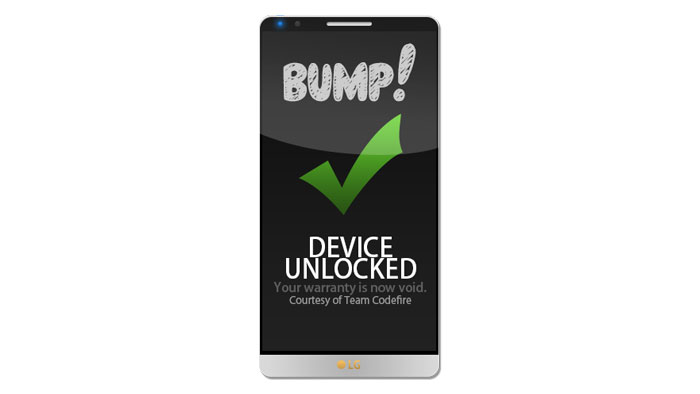 With root access only, you and other users cannot install mods or custom ROMs on your phone. This has been a big problem because users want to install custom ROMs and kernels but haven't been able to do so because their LG G3 units aren't unlocked.
Recently, the Senior member "thecubed" managed to unlock the LG G3 using Bump. Once you Bump your phone, you will be able to install everything that has been Bump'd.
Prerequisites
Charge your phone at least 50% so it will not turn off during the process.
ADB connection installed
Downloads
Download the right file for your LG G3 variant:
It supports all the following devices:
D850
D852
D852G
D8555
F400
LS990
VS985
1. Download the img file on your computer.
2. Select MTP connection mode and transfer the file to your phone.
3. Open command prompt window CMD and run the commands in the following order:
adb shell
su
dd if=/dev/zero of=/dev/block/platform/msm_sdcc.1/by-name/recovery
dd if=/sdcard/twrp-2.8.0.0_CHANGEME-signed.img of=/dev/block/platform/msm_sdcc.1/by-name/recovery
4. Boot your LG G3 to Recovery mode.
5. Select Factory Reset.
6. Reboot your phone.
Also Read: Best Custom ROMs for LG G3 (Fast & Stable)
Now your LG G3 has been successfully unlocked and you can install everything on your phone without any worries.