Android is the most popular operating system on the world. Hundreds of million of Android devices are used everyday and millions get activated. It is the fastest growing OS surpassing every other operating system like iOS and Windows Phone.
The best thing about Android is the fact that it is open source. If an OS is open source, the possible things that you can do with it are basically endless. You can install another kernel, ROM, firmware, mods, everything.
Also Read: How To Move Games & Obb Files To SD Card 2014
But these things are usually done by users who have experience with Android devices because the smallest mistake while installing a custom ROM can result in a bricked phone and there is nothing you can to save it. It is called a hard brick.
But with Android, there are other things you can do that do not require good knowledge. One thing that many users do is extracting apps from one device to another.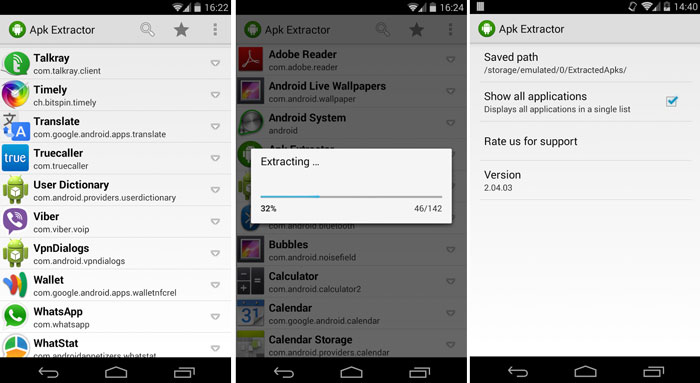 If someone wants to download an application from the Play Store but it doesn't have internet connection, you can grab your friends' phone that has the app installed, extract the APK from the system and then transfer it to your phone and install it.
Or if an app gets removed from the Play Store, you will no longer be able to download it. But if someone else has it, you can extract the APK file and send it to your phone.
How to extract APK from installed apps on Android
1. Download APK Extractor from the Play Store.
2. Open the app and there will be a list of all installed apps.
3. Select the app you want to extract.
4. The app will extract and will be stored in /storage/emulated/0/ExtractedApks/ folder.
Also Read: How To Fix YouTube Video Freezing Problem Android & iOS
Go to the folder and take the app. Then you can send it to other devices for installation purposes. This is the fastest and best method of 2014.