The Xperia Z3 is Sony's latest addition. It is the successor of the Sony Xperia Z2, one of the best devices at the time it got launched. But now, it is time for the Xperia Z3 to shine and compete with the best and fastest Android smartphones.
The phone has a sharp 5.2″ Full HD LCD screen, huge 3,100 battery which turned out to be the longest lasting battery, Snapdragon 801 chipset with 2.5 GHZ quad-core processor and Adreno 330 GPU.
Also Read: Download Xperia Z3 Keyboard App APK
One of the most important and notable feature of the Sony Xperia Z3 is the water-resistant capabilities. It is IP68 certified which means complete protection against dust and water immersion beyond 1 meter.
The phone also has a 20.7 MP sensor which produces super sharp images and high quality videos. Many users want to record videos underwater and since the phone is IP68 certified, you can take your phone and go for an underwater ride.
But you will bump into a few problems if you do not set up your Sony Xperia Z3 correctly. The touchscreen will not work and you will not be able to record the perfect underwater video.
Use volume keys to record videos
The biggest issue when recording underwater is the fact that you cannot use the phone because the touch screen doesn't work when it is wet. So you have to start recording before going underwater. But you can also tweak the camera app so it is easier for you to take pictures and videos.
1. Unlock your phone and go to Camera app.
2.  Tap the Settings menu icon.
3. Scroll down and tap on Use Volume keys as option.
4.  Change it to Shutter.
5. Select what you want to do: record photos or videos.
Touch lock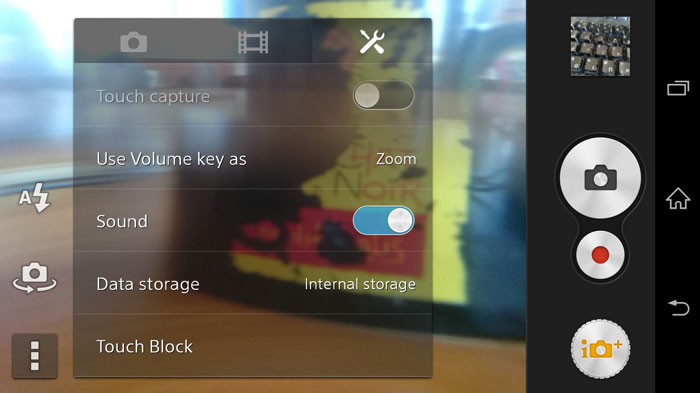 Now that you have enabled the volume buttons, you must lock the touchscreen. When you go underwater, the phone recognizes fake touches because of water and this can stop your recording.
1. Unlock your phone and go to Camera > Settings.
2. Tap the Touch Block option. This will deactivate the touchscreen sensor of the phone.
Also Read: Download Xperia Z3 Launcher and Weather Widget
Now when you go swimming, you can take pictures and record videos without any worries. When you are done, swipe the slider to disable Touch Block so you can use the phone again.