HTC brings new features with the announcement of the M8. One of them is Extreme Power Saving Mode. It is similar like Ultra Power Saving Mode on Samsung Galaxy S5. You probably have heard of it before. This mode helps your phone's battery to last longer. It sends the phone in a stage like hibernation and allows you to use the most important apps like dialer, message, browser, and a few other needed apps.
It allows the phone to stay on for 15 hours with only 5 percent battery. It closes all unimportant apps and those who drain battery the most. It also allows you to use minimal information. This mode makes the phone only a phone, it's not a smartphone anymore. You can use only general apps.
Also Read: How To Return HTC One M8 100% Completely To Stock
This mode is good for those who don't have time to charge the phone every time that the battery goes down or for those who travel a lot. When it stays alive for 15 hours with only 5 percent, imagine how much it can stay with more than 80 percent. It can last a few days, and that's good.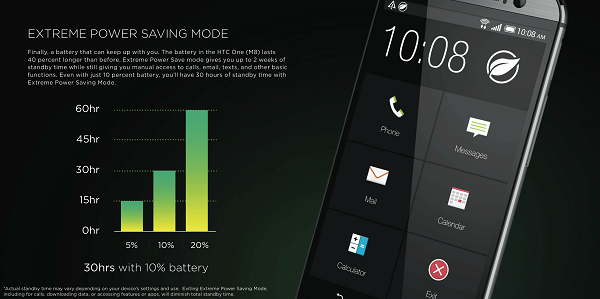 But in some HTC One M8 units this mode is missing, mostly on USA variants. The owners of  HTC One M8 are saying that their devices don't have this mode. The reason is that U.S carriers are shipping a version of smartphone that runs an earlier software version, not the latest which has the Extreme Power Saving Mode.
Also Read: How to Put your HTC One M8 to Sleep Without Pressing the Power Button
All HTC One M8 users without Extreme Power Saving Mode can't do anything to change that. You have to wait for a new update to arrive. The update should start rolling out fairly soon. Be sure to check always for a system update. Simply go to Settings > Software Updates > Check Now. The version that includes the Extreme Power Saving Mode will be 1.54.401.5 and up.