Here are a few tips and tricks to be good at Modern Combat 5 multiplayer. Modern Combat 5 is the latest FPS game for mobile platforms like Android and iOS. MC5 is the successor of Modern Combat 4, a 1.5 years old FPS game.
Modern Combat 5 brings a lot of improvements. It has much more improved and better graphics, new weapons with more options and attachments, new thrilling campaign story and improved multiplayer mode. Modern Combat franchise is known for its excellent multiplayer mode.
Also Read: Download & Install Goat Simulator on Android and iOS
There are thousands and thousands of people playing everyday on Modern Combat 5 servers. The performance is excellent and people do not cheat at all. Those people who try to cheat are caught by Gameloft servers and are banned from playing multiplayer again. So you will have a good time playing Modern Combat 5 online.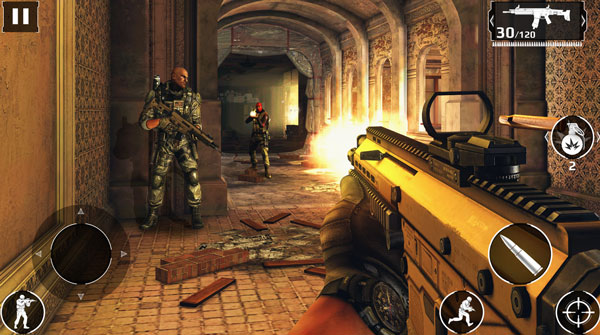 But you won't have a good time if you don't know how to play online. Online players are a lot better than computer bots. You should have a little experience and knowledge on the game. Follow the tips below to be better at Modern Combat 5 online multiplayer.
Be Aggressive
If you try to hide you will have a bad time. Good players know where scared players are and will go there. Hiding is not a good solution at all. If other players come where you are positioned, you will find yourself stuck there and the other player will be able to eliminate you very easily.
Find Good Positions
If you really like to hide and think you are able to confront other players when they suddenly show up near you, it is a good idea to find good and strategic positions. The best positions are usually high places from where you can see a big part of the map. In this case, using a sniper is your best choice because you will be able to eliminate other players which are far from you from the position you currently are.
Use Grenades and knives
Grenades and knives are very underrated on Modern Combat series. The truth is that they are very powerful. There are some over powered grenades which can eliminate the enemy even if it has full health and good armor.
Also Read: Why Is Minecraft So Popular and Addictive (Reasons & Opinions)
Choose the right weapon
There is no such thing as the perfect weapon. There are different good weapons for different situations. If you are at a high place and other players can't reach you easily, the sniper is the best weapon. If you are in a closed area and all other players are close to you, you should use a weapon which has a rapid fire rate so a lot of bullets can be shot in a few seconds.
Also, get a weapon which has stabilization attachments and extended magazines so you don't have to reload your weapon many times.
These were a few tips on how to win and be good on Modern Combat 5 multiplayer..