Are you waiting for the official release of the Samsung Galaxy Note 4 so you can buy and enjoy one? The Note 4 is undoubtedly one of the best smartphones of this year. This is not only because it is one of the best phablets you can find, but also because of many changes the phone has in comparison with the Note 3.
For example, the steel frame was something that many people expected. It started to get very tense with all users complaining about the plastic body of the Note 3, even though it survived the bend test without any problems. But the Note 4 makes everyone happy now. It has everything you expect from a high-end smartphone: speed, battery life, features, excellent display and aluminum body.
Also Read: Best Samsung Galaxy Note 4 Accessories
But until the phone gets released worldwide and you actually get the chance to buy one, enjoy the full Samsung Galaxy Note 4 unboxing video. Unboxing a new product is something that always feels good. The smell of the new fresh gadget is always pleasing.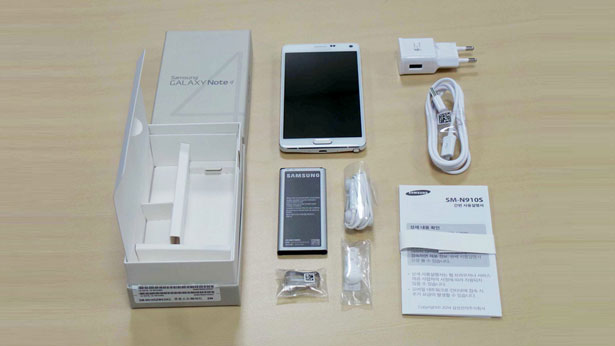 You will not be able to enjoy and feel the steel frame of the Galaxy Note 4 but you will be able to see everything that the box has. Samsung has decided not to keep the wood design of its boxes. Now they are grey and look stylish. The first thing inside the box is obviously the new Galaxy Note 4.
There is a sticker on the screen which shows all the specifications of the device so the user gets a better understanding of the device. There are a few accessories inside the box including charger adapter, USB cable, headphones and a few pairs of ear buds.
Also Read: Best Samsung Galaxy Note 4 Accessories
Another thing that is included on the box is a second 3,220 mAh battery. Normally, Samsung phones do not come with a second battery and this is a nice addition because the removable  back cover will be used for a purpose. That's all you will get inside the box. Oh, there are also some papers about warranty and manual but nobody reads them anyway.
Samsung Galaxy Note 4 Unboxing Video