Have you just installed the new iOS 8 update but aren't happy with it? iOS 8 is the latest operating system for iPhone and iPad and according to Apple it brings new features, big fixes and improvements. Overall, the new version is supposed to make your device faster and should also improve battery life.
However, not all owners are happy with the new iOS 8 update. Many people have reported problems and issues. iOS 8 can work without any problems on latest iPhones but it is having a lot of problems on old versions, especially on the iPhone 4s.
Also Read: How To Install & Switch To iOS 8 Third-Party Keyboards
Users are reporting that the phone freezes, lag and stops working after installing iOS 8. And this has been reported by many users, not only a few. If don't like the new iOS version, follow the guide below to learn how to downgrade from iOS 8 to iOS 7 the easy way. Please note that this process will delete everything on your phone including photos, videos and games.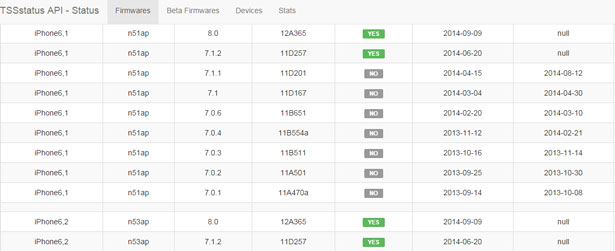 1. The first and most important thing you should do is to go to verification page. This page tells you if your phone is eligible to downgrade to iOS 71.2 or not. The devices are codenamed as following:
iPad 2 – iPad2,1 to 2,4
iPad 3 – iPad3,1 to 3,2
iPad 4 – iPad3,3 to 3,6
iPad Air – iPad4,1 to 4,3
iPad mini – iPad2,5 to 2,7
iPad mini with Retina – iPad4,4 to 4,6
iPhone 4S – iPhone4,1
iPhone 5 – iPhone5,1 to 5,2
iPhone 5C – iPhone5,3 to 5,4
iPhone 5S – iPhone6,1 to 6,2
2. If your phone has the green button then you are good to go and can downgrade from iOS 8. The next thing you should do is to download official IPSW package for your phone which has a build of iOS 7. Go to IPSW Downloader and download the correct iOS 7.1.2 build for your phone.
Also Read: How To Install iOS 8 on Jailbroken iPhone & iPad
3. Connect your phone to your computer and open iTunes program. One important thing you should do at this moment is to disable Find my iPhone feature. Then, simply hold Shift, select the IPSW firmware you downloaded and click Restore. This will install and downgrade your phone from iOS 8 to iOS 7.1.2.