Smartphones have become very important in our lives. We basically cannot live without them for a single second. If you put your hand to the pocket and don't feel the phone there, you get that terrifying mini heart attack. Everything around you stops until you finally manage to find the place where you have left it. You  use your phone for many things including taking pictures, watching videos, browsing the web and making phone calls.
Every year, manufacturers try to add as many features as possible to their devices. When you mention software features, Samsung comes to our minds. Samsung is that OEM that equips its flagship devices with the latest and most powerful processor as well as some of the most interesting and useful software features.
You get air gestures, health app to measure footsteps and heart rate as well as incredible multitasking capabilities. There is one thing that is not enabled though. Call recording is one of the most requested options on Android devices.
Being able to record phone calls is a neat thing to have. The problem is that most of the devices do not have this feature implemented. This is not the case with Galaxy phones. Even though they do not have this option enabled by default, it doesn't mean that it is not there.
Samsung has the habit to include the call recording feature on its all flagship devices but for some reason, it is hidden. Luckily, there is a very simple way to enable native call recording on the Galaxy S5, Galaxy Note 4 and Galaxy Note 3.
How To Enable Native Phone Call Recording on Galaxy S5, Note 4 and Note 3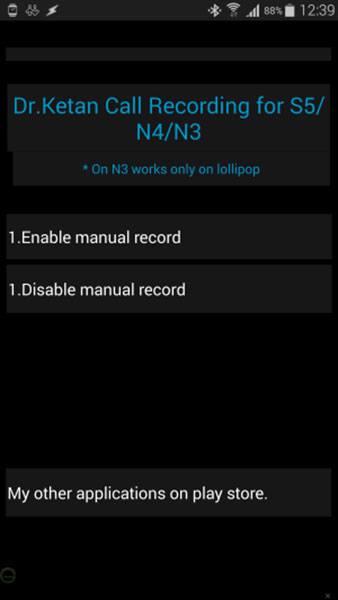 The mod is created by "dr.ketan", a well-known recognized contributor. It works on the Samsung Galaxy Note 4, Note 3 and the Galaxy S5. If you have a Note 3, you must be running on Android 5.0 Lollipop.
Download app to enable native call recording – Download
Unlock your phone, go to Settings > Privacy and enable an option called "Unknown Sources".
Install the APK file and launch it.
There are two options within the app: "Enable manual record" and "Disable manual record".
Press and hold the first option. The app will prompt you to grant root access.
Now reboot your phone and make a phone call. There will be a button named "Record". Simply press it and the phone will record the phone call.