Call recording is a feature that some phones have and some phones do not have. There's always a big fight when it comes to call recording.
Some say that it is illegal and no conversation should be recorded and some say that it is allowed.
On most countries, call recording is allowed. Even though it is allowed, most of smartphone manufacturers do not include it.
Well, some of them include call recording as a feature on the phone app but for some reason, they disable it.
Also Read: How To Fix Voice Cracking Phone Calls on Galaxy S5 Issue
Call recording is a feature that most of custom ROMs support, that's why it is recommended to root and install a custom ROM on your phone. The Sony Xperia Z2 and Z3, as most other phones, do not have call recording option.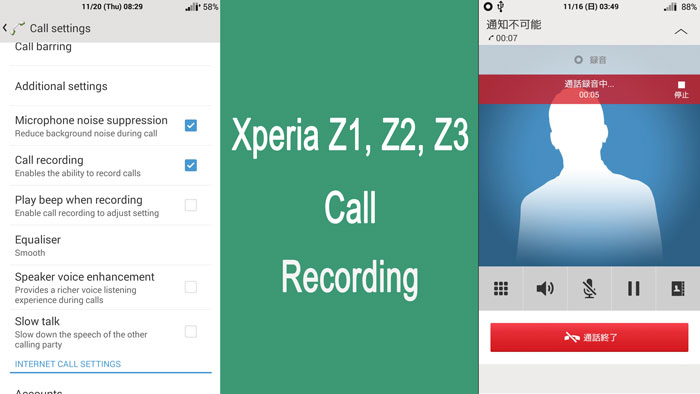 The option is hidden deep in the phone app and is disabled by default. Thanks to a few users who took a look at the firmware, call recording can be easily enabled on the Sony Xperia Z2 and Xperia Z3.
The feature is found inside the CallRecording.apk file and can be enabled by flashing a zip file. If your country allows it, here's the guide how to enable it on your phone.
How to enable call recording feature on Sony Xperia Z1, Xperia Z2 and Z3
Download XZ3_CallRecording_signed.zip
Boot your Xperia Z1, Z2 or Z3 to Recovery mode.
Flash the zip file.
Reboot your phone.
Go to Settings > > Call settings and enable call recording.
A notice will appear, Click "Accept" only if your country allows it.
Also Read: How To Easily Record Phone Calls On CyanogenMod 11
Now the call recording button will appear on top of every conversation so you can easily enable or disable it. Please note that call recording is something that not all agree to. Call recording is not recommended, especially if the other person doesn't know about it.