Download now the Samsung Galaxy S5 S View Cover on the Samsung Galaxy S4. S View Cover is an interesting and useful feature for latest Samsung devices. If you buy a S View Case for your Samsung Galaxy device, be it a Galaxy S4 or Galaxy S5 you have the option of S View feature.
Thanks to the cutout the case has, you can view the time, missed messages, missed calls and emails without having to turn your phone on or opening the case. You can see this information directly from the cutout of the case. This option has been introduced on the Galaxy S4 and continues to improve on newest Galaxy devices.
Also Read: Download Galaxy S5 Kid Mode App for the Galaxy S4
The Samsung Galaxy S5 S View Cover is a big improvement over the S View Cover of the Samsung Galaxy S4. It has more features like camera shortcut, pedometer sensor and the design has been changed to fit the Android 4.4 KitKat style. If you have a Galaxy S4 and want the Galaxy S5 S View Cover mod or option, follow the guide below.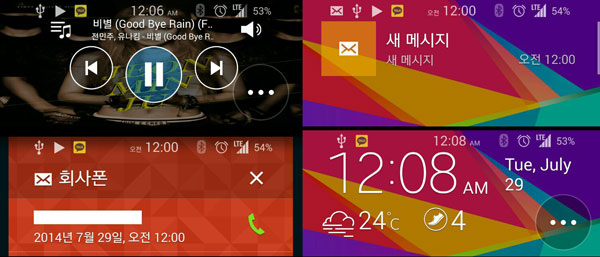 In order to install the S View Cover mod you need to have the original SecSettings.apk application of the Samsung Galaxy S5. If you don't have the application, go here and check out Galaxy S5 ROMs for Galaxy S4 which contain SecSettings.apk file needed for the mod to work correctly.
Once you have verified that you have installed the required file on your Samsung Galaxy S4, download the ported Galaxy S5 S View Cover mod here.
Also Read: Install Galaxy S5 Camera on Galaxy S4
To install the mod, copy the file to your phone and boot it into Recovery. Select the mod and flash it through Recovery and reboot your phone.