Screencast is a cool and useful application presented on the OnePlus One firmware. Screencast is a screen recording application. Screen recording isn't very popular on Android devices. There are may applications on the Play Store which video record the screen but none of them work well.
Some of them do not work at all. When you try to record, the application force closes and the phone has to reboot in order to fix the problem. Other applications work but once they start recording, the phone starts to lag and the video quality isn't very good. Most of the applications can't record higher than HD even though the Nexus 5 has a Full HD display.
Also Read: How To Change Boot Animation Logo on Nexus 5
The only good application which really works is Screencast which is a feature of OnePlus One smartphone. Screencast can record high quality videos and the phone doesn't lag when the app starts recording. The app is available only for the OnePlus One but the firmware of the phone has been ported to the Nexus 5.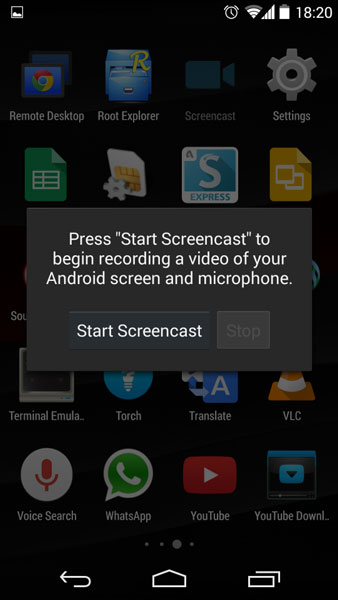 Users who have ported the OnePlus firmware have been able to take the Screencast app and make it compatible with the Nexus 5. Until now, Screencast works fine on the Nexus 5 and it has been tested by many users on many devices.
Download ported Screencast app from OnePlus One for Nexus 5 here.
There are two ways you can install Screencast on your Nexus 5:
1. Flashable Zip File
Download the flashable zip file from the link above and move it to your phone. Boot your Nexus 5 into Recovery and flash the zip file. Wipe cache and dalvik cache and then reboot your phone.
2. APK File
Download the APK file from the link above and using a root file explorer, copy it to System > Priv-app, set the correct permissions and reboot your phone.
Also Read: How To Improve Nexus 5 Screen (Calibrate Display Colors)
Open the app, click "Start Screencast" and the app will start recording the screen of your Nexus 5.