Apex launcher 3.0 update has brought Android 5.0 Lollipop theme and Material Design to all devices. There are a lot of third-party launchers that you can download and install from the Play Store.
If you don't like your stock launcher that your phone comes with, you can easily replace it with an app that you can get from the Play Store. There are many good launchers but two which offer the best stock Android experience are Nova and Apex.
Also Read: Google Keyboard 4.0 APK (Lollipop Keyboard)
We have already talked about Nova as this launcher already got updated with Material Design theme a few weeks ago. If you are interested about Nova, you can download it here.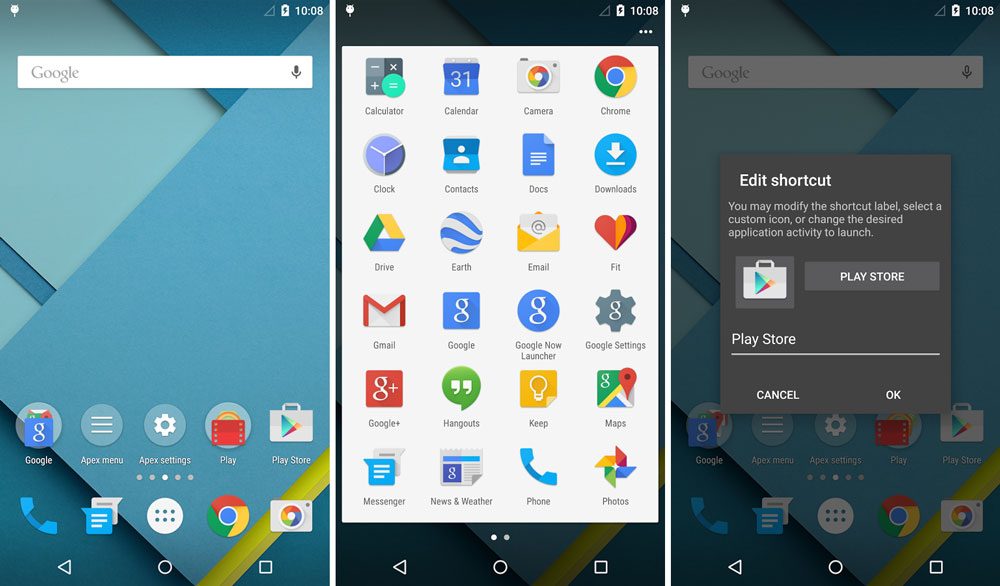 The new Apex update brings the version number to 3.0 or 3.0.1. The update has brought a lot of new features and options but the biggest ones are related to Lollipop.
Apex launcher 3.0 introduces a new modern UI user interface with Material Design, Lollipop icon pack, Lollipop drawer background and animation, Lollipop folder style and Lollipop search bar.
Aside from Lollipop related features, the new update brings other UI tweaks and improvements, new scroll speed option, improved app and widget picker and updated translations.
Download & Install
Download and install Apex launcher 3.0 APK.
Once you install the launcher, press the home button. A pop up will appear asking you which launcher to choose. In this case it will be the stock and Apex launcher. Select the launcher and then select "Just once" or "Always".
Also Read: MX Player Supports 5.0 Lollipop, Download APK File
If you select "Just once", the next time you press the home button, the pop up will appear again. If you choose "Always", when you press the home button, the selected launcher will always appear.