Are you excited about Android 5.0 Lollipop update that Google is going to release at the end of this year? If you have a device that it is going to be updated, then you have a big reason to get exited.
Lollipop is the latest Android version with a lot of new features such as new battery saving mode, completely redesigned user interface with Material Design, new ART runtime system for better and faster performance as well as interactive and lock screen notifications.
Also Read: Download Full Wallpaper Pack Android 5.0 Lollipop (11 Wallpapers)
Yes, all these changes and improvements are a big reason to make you exited but they are even bigger if your phone is actually in the list of devices that the manufacturer is going to update to Android 5.0 Lollipop.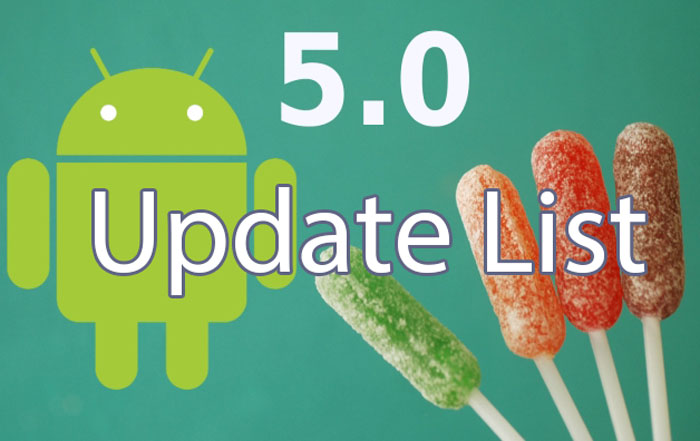 We have posted a few articles about devices that are going to receive Lollipop but they are all separated which means one is about Sony devices and the other one is about Motorola devices. In this article, we are going to list every single device including Google Nexus, Motorola, Micromax, HTC and Nvidia.
Here is the complete list of all devices that are going to receive Android 5.0 Lollipop:
Motorola
Moto X
Moto X 2nd Gen.
Moto G
Moto G 4G LTE
Moto G 2nd Gen.
Moto E
Droid Ultra
Droid Maxx
Droid Mini
Google
Nexus 4
Nexus 5
Nexus 7 (2012)
Nexus 7 (2013)
Nexus 10
HTC One (M7)
HTC One (M8)
Samsung Galaxy S4
Moto G
Sony Z Ultra
LG G Pad 8.3
Micromax Canvas A1
Spice Dream UNO
Karbonn Sparkle V
Sony
Xperia Z
Xperia ZL
Xperia ZR
Xperia Z1
Xperia Z1s
Xperia Z Ultra
Xperia Z1 Compact
Xperia Z2
Xperia Z2 Tablet
Xperia Z3
Xperia Z3v
Xperia Z3 Compact
Xperia Z3 Tablet Compact
NVIDIA
HTC
One (M7)
One (M8)
One mini
One mini 2
Also Read: How To Install Android 5.0 Lollipop Developer Preview Image
As you can see, the list is very long considering how many devices actually received the Android 4.4 KitKat update. The list is expected to get longer as manufacturers start to add more devices.