2013 has been an amazing year for everyone who loves technology. Endless gadgets have been released this year. Smartphones, tablets, phablets and even wearables like smartwatches and Google Glass.
That being said, the question everyone asks is: Which devices launched this year are really the best? It is a difficult question to answer as there are way to many powerful devices to choose from. That's why this article is going to list the 5 best smartphones of 2013. The selected smartphones are not only chosen based on their specifications, but also based on the features these phones offer to make the experience enjoyable and great. Without further ado, let's get started.
5. Motorola Moto X
The Motorola Moto X has decent specifications and overall, it is a unique device. It has a 1.7GHz Quad core Krait Snapdragon processor coupled with the Adreno 320 GPU, 10MP rear camera and a 2MP front-facing camera. It also has a decent-sized 2200mAh battery which has turned out to perform very well. The screen is a 4 7″ HD AMOLED display.
The most unique thing about this phone is its "personality". I say personality because if you buy this phone online from the official Motorola website, you can completely customize it. You can select different colors for the back cover, front, accent and you can even put a custom signature on the back of the phone making it totally unique. This phone has the latest Android 4.4 KitKat version. Moto X is a really good choice if you want a good perfomance on a unique phone.
4. Samsung Galaxy S4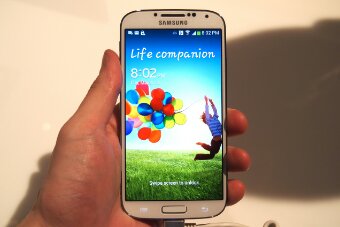 The Samsung Galaxy S4 is Samsung's flagship device for this year. The GS4 comes in two variants because of different chipsets. The first variant has an Octa Core 1.6GHz Exynos CPU coupled with the PowerVR SGX 544MP3 GPU (GT-I9500). The second variant has a Quad Core 1.9GHz Snapdragon CPU coupled with the Adreno 320 GPU (GT-I9505) and the screen is a 5″ FullHD Super AMOLED display.
Both have a giant 2600mAh battery. Which one is faster? Both are very fast. That's all I can say. The Galaxy S4 presented some cool features like Eye Scroll and Eye Pause which really made this device very popular.
3. HTC One
The HTC One is probably the only device to match the build quality of the iPhone 5S. This phone is made out completely of aluminum, giving it a premium quality. As the Galaxy S4, the HTC One has a Quad Core 1.7GHz Snapdragon 600 CPU and the Adreno 320 GPU. It has a slightly smaller 2300mAh battery than the GS4. It has one of the best screens out there with a 4.7″ FullHD Super LCD display with a very high PPI.
That being said, this phone also brought some interesting features. It has 2 front speakers which are the loudest ones a phone has ever had. Another feature is BlinkFeed. BlinkFeed is a Flipboard-like software which shows you the latest news and updates from different social medias.
2. Nexus 5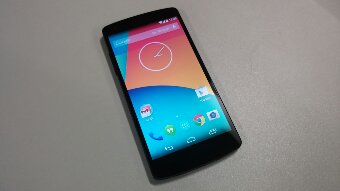 The Nexus 5 is a real powerhouse. It has the latest and fastest quad core 2.3GHz Snapdragon 800 and the Adreno 330 GPU. This means that the Nexus 5 is one of the fastest smartphones currently available. It has a 4.95″ FullHD True IPS+ display and all this is backed up by a 2300mAh battery. What's so special about this phone? Apart from being a powerful beast, it is a Nexus device. That's why it has the latest Android 4.4 KitKat version. And it is one of the cheapest devices when you consider the specs it has.
1. Samsung Galaxy Note 3
And finally, the Galaxy Note 3. It has a huge 5.7″ FullHD Super AMOLED display. Some may love it, some may hate it. The important thing is that it's an amazing display. The Note 3 is powered by a 2.3 Ghz Snapdragon chipset or by a 1.9GHz Exynos chipset. An amazing thing about this phablet is that it has 3GB RAM. Even more than average computers.
It also has many features like Scrapbook, Action Memo, and S-Note which make this device very unique. And don't forget about the S Pen. You can take notes everywhere you go without having to carry a real pen and notebook. That's why this device is in the first place.
These were the best 5 smartphones of this year. There are many other devices which were not included in this article like the LG G2, iPhone 5S, Sony Xperia Z1. All them are great, they just didn't have any special features to make it to top 5. The iPhone 5S indeed has a fingerprint scanner, but that's it. Happy New Year Everybody.