Motorola announced the Nexus 6 in collaboration with Google. The long-awaited device comes with plethora of improved and better specs compared to the Nexus 5 like better and faster processor, bigger and higher resolution display, much bigger 3,220 mAh battery and 13 MP camera with OIS stabilization.
But the main feature that everyone was interested on was the Android version that the Nexus 6 was running. As stated on our Nexus 6 review, the phone comes with Android L Lollipop which is said to make its debut at the end of this year.
Also Read: How To Update Moto X To Android 4.4.4 KitKat & Improvements List
Until today, the official name of Android L was unknown. However, Google confirmed that it is called Lollipop after a few leaks suggesting the same thing. Since the Nexus 6 is manufactured by Motorola, the company is going to have it easier to update its devices to Android 5.0 Lollipop.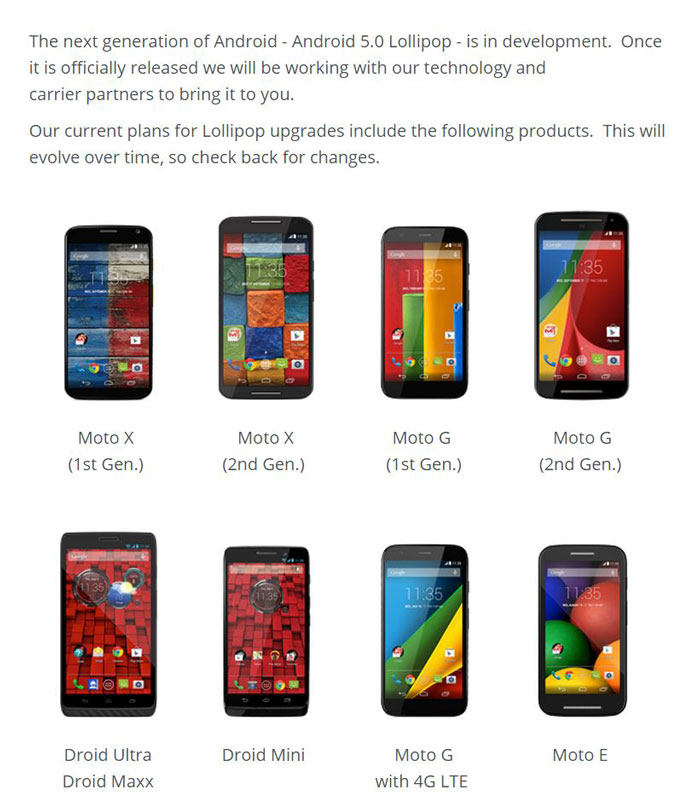 Motorola published a photo saying that Android 5.0 Lollipop is currently in development and once it is officially released, they will be working with their technology and carrier partners to bring it to you. And then, the picture lists all Moto devices that will be receiving Android 5.0 Lollipop update.
Moto X (1st Gen.)
Moto X (2nd Gen.)
Moto G (1st Gen.)
Moto G (2nd Gen.)
Droid Ultra Droid Maxx
Droid Mini
Moto G with 4G LTE
Moto E
Also Read: Why Nexus 6 Rocks And You Should Buy It
Then, the company also notes that these are only the current plans. They will evolve over time and more Motorola devices will be added. It is nice from Moto to see that low-end smartphones like Moto E will be getting the latest Android 5.0 Lollipop version.