How to turn off and completely disable the annoying system sounds on the Samsung Galaxy Note 4. The Note 4, as every other Samsung device, comes with Touchwiz user interface skin. But the new phablet has a much more redefined and improved Touchwiz UX skin.
It is optimized even more to be as smooth as possible, it doesn't lag like on previous versions and it has a lot of awesome features including S Pen, Multi Window and better camera features. While it has all these useful and awesome applications, Touchwiz also has some things that annoy a lot of users.
Also Read: How To Activate & Use Galaxy Note 4 Multi Window Mode
One of the most annoying things about Samsung skin are the system sounds. Samsung has always put nature-like system sounds. For example, when you tap on the screen, the phone will make a water droplet noise. The same thing when opening an application or when pressing hardware keys (back, home, recent apps).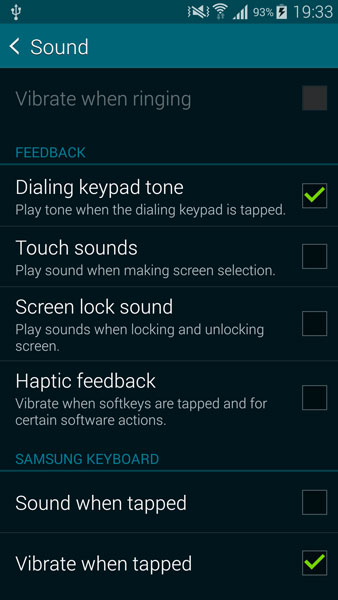 But as on other devices, you can completely turn them off.
Disable Samsung Galaxy Note 4 system sounds
1. Go to Settings and select Sounds option.
2. Scroll down until you find the Feedback section.
3. Disable every option like Dialing keypad tone, Touch Sounds, Screen lock sounds.
4. Also disable Sound when tapped option under Samsung keyboard.
Also Read: How To Take A Screenshot On The Samsung Galaxy Note 4
You have successfully disabled all system sounds on your Samsung Galaxy Note 4. To bring them back, simply enable all the options you disabled.