The iPhone is a good phone with decent specifications and good performance. Everyone says that it doesn't have any lag and the user experience is the best you can find on a mobile device. While iPhone and iOS in general are good, they certainly are not perfect.
We just talked about how iPhone 5S and iPhone 5 users are experiencing problems with the camera where every time they try to open the camera app it crashes and force closes. Another popular problem with the iPhone 5 and 5s is keyboard lag which is very annoying because it doesn't let you to type quickly and correctly.
Also Read: How To Fix Camera Crashing & Force Closing On iPhone 5S & 5
Are you getting tired with all these problems that your iPhone has? Have you ever thought of selling your phone and buy another one? Don't be hasty. At first try these simple solutions. Maybe your phone will work fine and you will love it again.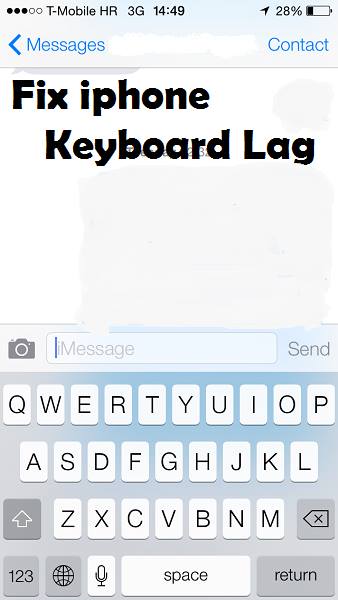 Eliminate Background App Refresh
Background apps use a lot of memory when they refresh. So if you want your iPhone to work faster you can prevent background apps from refreshing. This will make your device work faster. You can do this simply by going to Settings  > General > Background App Refresh. Then switch off Background app refresh option.
Solution 1
Step 1. Go to Settings -> General -> Location Services.
Step 2. Change Location Services to Off.
Step 3. Press Settings to exit.
Step 4. Repeat steps 1 & 2, but this time change it to On.
This is not a long lasting solution but it is better than restarting your phone.
Simple Solution 2.
Step 1. Open Settings.
Step 2. Tap on iCloud.
Step 3. Log in using your Apple ID.
Step 4. Navigate to Documents and Data which it's  located above Find My iPhone. Tap on it.
Step 5. A window will appear with a toggle switch. Tap to turn it OFF.
After doing this you will see that the keyboard will work faster.
Also Read: iPhone 6 Prototype Drop Test & Destruction Test
Remove Extra Keyboards
You can remove extra keyboards installed on your phone. You can do this by going to Settings > General  > Keyboard. Swipe left  and delete any extra keyboards you have installed. Reboot your phone and see if the lag has disappeared.
Reset all Settings
Many iPhone users have reported that this has fixed the problem soo give it a try. Go to Settings  > General > Reset > Reset All Settings and then reboot your phone.