OnePlus has started rolling out the official Android 10 update for the OnePlus 6 and 6T. This is the first stable OxygenOS ROM version based on Android 10 for the 6 and 6T. OnePlus added the 6 and 6T to its Open Beta program in October where users could test beta versions of Android 10-based OxygenOS ROMs. Looks like OnePlus has fixed all the issues and bugs throughout the month, and has now released the first official build.
The new OxygenOS ROM for the OnePlus 6 and 6T is based on Android 10 and has October 2019 security patch version. The update can be downloaded over the air by all users. If you haven't received any updates yet, check manually through the settings menu. To do so, go to Settings -> System -> System updates. The phone will manually check if any updates are available. If that is the case, the phone will download and install the new update. In the case where the phone says that the latest version is already installed, proceed with the tutorial below.
Everything new with OxygenOS 10 for OnePlus 6 and 6T
According to the official changelog for OxygenOS 10, there are quite a few changes. Below is the full detailed changelog.
System

Upgraded to Android 10
Brand new UI design
Enhanced location permissions for privacy
New customization feature in Settings allowing you to choose icon shapes to be displayed in the Quick Settings

Full-Screen Gestures

Added inward swipes from the left or right edge of the screen to go back
Added a bottom navigation bar to allow switching left or right for recent apps

Game Space

New Game Space feature now joins all your favorite games in one place for easier access and better gaming experience

Smart display

Intelligent info based on specific times, locations and events for Ambient Display (Settings – Display – Ambient Display – Smart Display)

Message

Now possible to block spam by keywords for Message (Messages – Spam – Settings – Blocking settings)
Obviously, the biggest change is Android version 10 and all system features that come with it such as privacy controls, focus mode, improved gestured navigation, dark theme, sound amplifier, smart replies, and live captions.
Furthermore, the update introduces a brand new UI design and full-screen gestures. Game Space lets you group all your favorite games in one place for enhanced gaming experience. You can block spam messages by adding custom keywords, and Smart Display is able to offer specific information for Ambient Display based on the time and location.
Preparing to install OxygenOS 10 on OnePlus 6 and 6T
Make sure to charge your phone to at least 70%. In case something goes wrong and the phone gets stuck during the installation process, it will not turn off abruptly.
The OTA update only works with stable OxygenOS builds based on Android 10. If you have installed a Beta Android 10 ROM, you need to go back to Android 9.
Make a full backup of all your important data. The procedure below is easy and fairly simple, but it is always a good idea to backup important data. For one reason or another, things might go wrong and data might get erased, so make a backup.
Download OnePlus 6 and 6T OxygenOS 10 OTA ROM
As we mentioned above, the OTA file includes October security patches. The files are around 1.7/1.8 GB in size, so make sure you have plenty of free space on your phone. You will need to download and move the file to the internal storage of your phone, so you will need at least 1.8GB of free space.
OnePlus 6
OnePlus6Oxygen_22_OTA_040_all_1910270546_42a63.zip | Download
OnePlus 6
OnePlus6TOxygen_34_OTA_040_all_1910270448_e026ea4b864.zip | Download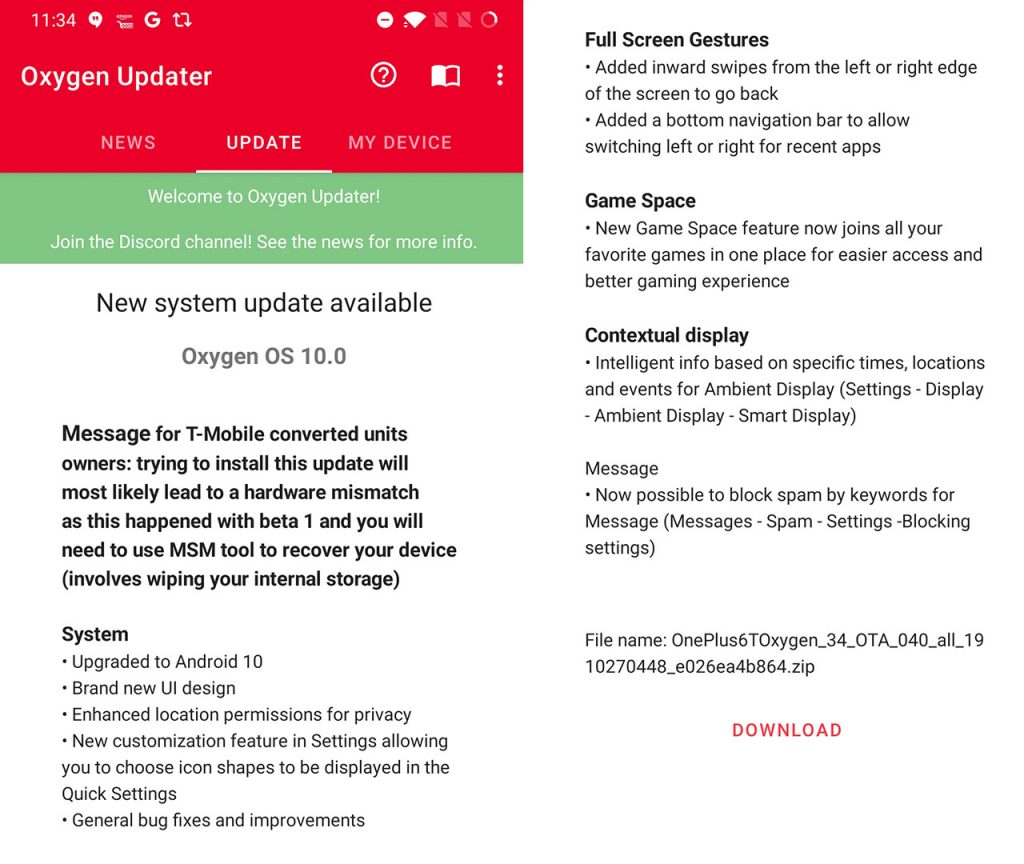 Install OxygenOS 10 on OnePlus 6 & 6T through Local Update
The installation process for this update is fairly easy. Since it is an official OTA update, you do not need root, custom recovery or anything custom. Both the OnePlus 6 and 6T offer the possibility to install the update through the settings menu
Step 1. As we mentioned above, download the OxygenOS ROM file and move it to the internal storage of your phone. Make sure it is located at the root directory of the internal storage. Do not put it inside any folders, otherwise, the phone will not be able to find the update.
Step 2. Take your phone and go to Settings > System > System updates. A menu will appear will the current firmware version and a text saying "Your system is up to date".
Step 3. Tap the Gear icon located on the top-right hand side of your phone's display and tap on Local upgrade.
Step 4. The phone will show a list of all available ROM files that it could find on the internal storage. The OxygenOS ROM that you downloaded will appear.  Tap on the ROM file.
Step 5. A pop-up menu will appear advising you to back up all important data. Tap on Install Now.
Step 6. The phone will install the new system update. When the installation process is finished, tap on Reboot.
The phone will boot the OxygenOS 10 ROM for the first time. The first boot might take a few minutes because the phone needs to optimize all system and custom apps for the new Android version.