How to increase Galaxy S4's touch screen sensitivity? The Galaxy S4 has a feature called Glove Mode. Basically, what this mode does is that increases the touch sensitivity of the display and it is called Glove Mode because it increases the sensitivity enough to recognize a glove, an object that most of smart phone displays cannot recognize.
This feature is available only on stock Samsung Touchwiz firmwares and Google Play Edition devices. If you flash custom AOSP ROMs such as CyanogenMod, this feature won't be available anymore. So you can't use your phone with gloves if you've installed pure Android ROMs.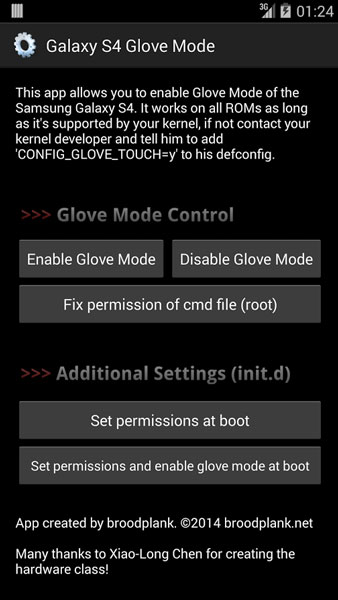 Fortunately, this feature is kernel related so it can be enabled even on non Samsung firmwares, not with a mod but simply with an app. The app, called "Glove Mode Galaxy S4", modifies the kernel to increase the touch sensitivity even on non Samsung ROMs. Note that the app requires root access but since you are already in a custom ROM, root shouldn't be a problem.
Download Glove Mode for Samsung Galaxy S4 here.
To enable the feature, simply open the app and press 'Enable Glove Mode' option. You have the option to disable it again. You can also make the app to enable the feature and set permissions at boot.