How to add a simple button that will clear all recently opened apps on Nexus 5 with KitKat Android version? Samsung's user interface, Touchwiz, has a lot of features that stock Android doesn't have.
One of these features is also the button that clears all recently opened apps. If you are a real user who uses the phone a lot, you might find it boring and sometimes annoying to swipe away all the apps you have opened.
With this button however, you simply go to Recent Apps page, click the button and all apps will close. It is a very simple mod which a lot of phones should have especially Nexus devices.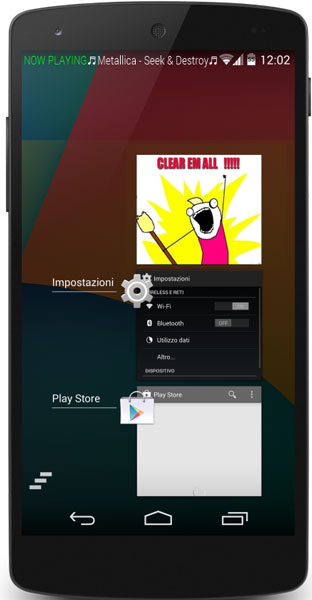 Only stock firmwares do not have this feature as custom ROMs such as CyanogenMod, SlimKat and other AOSP ROMs have it built-in.
To enable this feature, download the mod here.
Put it in your phone and flash it through custom recovery like CWM and TWRP. The developer of this mod, on the original thread here, has also explained all the code required to create this mod. It might look like a simple mod, but actually creating and making it to work is hard, so thank the developer.