The S-View feature of the Galaxy S4 and Galaxy Note 3 is very useful because it shows you the date, time, battery, your missed calls or messages and the music that is playing on the background. It is very handy to interact with your phone without having to completely turn the screen on.
However, something that his feature lacks is the ability to interact with the music player. Yes, you can see what song is playing in the background but that is it. You cannot pause the music or change tracks.
You have to flip out the s-view cover, turn on the screen, go to the music app and then change it. But this totally beats the purpose of the S-View cover which is to interact with your phone quickly and without turning the whole screen on.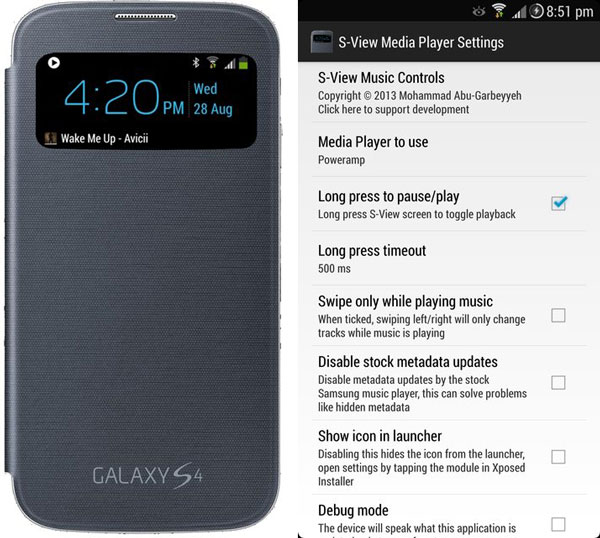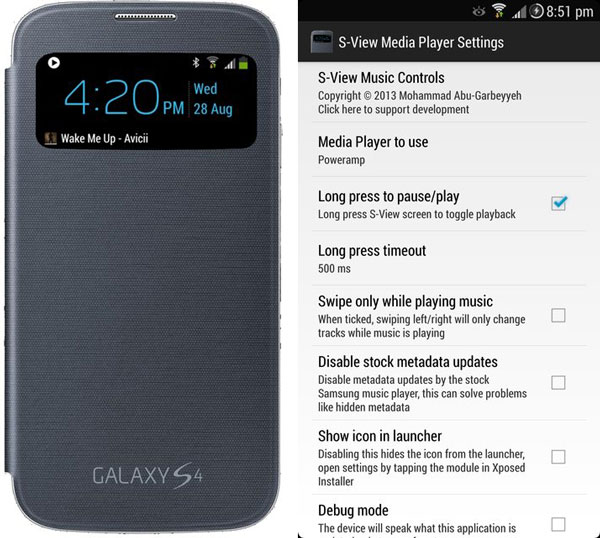 Thanks to the developers and the flexibility to customize Android, with a simple mod you can not only change tracks and pause the music but you can also change to third-party music players from the Play Store.
S-View Music Controls supports four music players: Stock Samsung Music Player, PowerAMP, Google Play Music and Spotify. These are officially supported but you can use any other players that support media buttons.
How to install S-View Music Controls mod:
1. You need to have Xposed Framework installed. Download the framework here.
2. Download S-View Cover mod from Play Store here.
3. Open the app, go to Media Player to use and choose your favorite player.
4. Reboot your phone.
That's it. Now you will be able to pause and change tracks directly from the S-View cover.