Planning to buy the new Samsung Galaxy S5 soon? It has some really interesting features such as Fast Auto Focus, Selective Focus, Download Booster, Dust & Water Resistance,Ultra Power Saving Mode and Finger Scanner.  They are very interesting and pretty cool to try them out. Too bad the Galaxy S5 won't be available for one more month until late April. However, this doesn't us to try out all the awesome features of these device thanks to the new Experience app.
Experience is an app from Samsung which shows off the main features of the Galaxy S5. It is a walk through on how to use them and how do they work. Some think that these options are just gimmicks for marketing purposes and don't really work that well or are that useful Samsung make them. Maybe after you use the Experience app you might change your opinion and actually like them.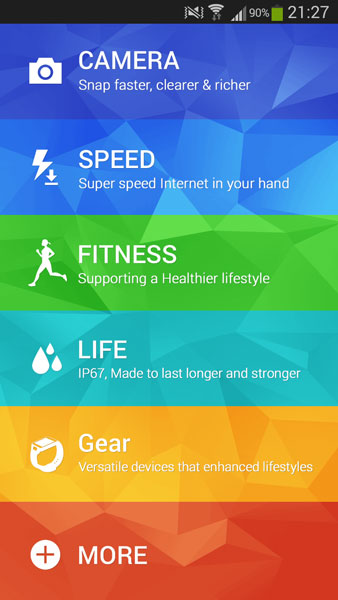 The experience app covers almost all the features of the Galaxy S5. It is separated in six categories: Camera, Speed, Fitness, Life and Gear and inside each category are the respective features. In the Camera category are featured HDR (Rich Tone), Fast Auto Focus and Selective Focus. Speed has Download Booster and Wi-Fi MIMO, Fitness has Pedometer, Exercise and Heart Rate Monitor (First device with a dedicated heart rate monitor).
Life only has Dust and Water Resistance feature. Inside the Gear category are two other sub-categories: Gear Fit and Gear 2. Gear Fit  gives you information about exercises, notifications and wallpapers. The same thing with the Gear 2 too.
How to use them? It is simple. Select the option you want and the app will send you through an walk through. At the end you will be directed to the home screen to choose other options. Download Galaxy S5 Exercise app here.