The Samsung Galaxy Note 4 is a groundbreaking piece of technology. It has features that no other phones have. Even though it isn't available worldwide yet, it has managed to sell more than 4 million units.
Some of the Note 4 specifications include the gorgeous 5.7″ Super AMOLED display, quad-core Snapdragon 805 chipset clocked at 2.7 GHz and of course, Android 4.4.4 KitKat with Touchwiz skin launcher.
Also Read: Download & Install Galaxy S5 S View Cover on Galaxy S4
Touchwiz on the Galaxy Note 4 has the same visual elements as the Galaxy S5 with a few changes here and there. The launcher and Accuweather widget are different, as well as the Settings menu panel.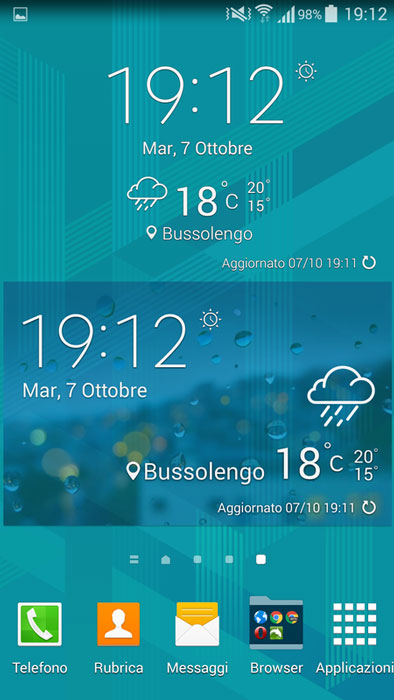 The Galaxy S4 is Samsung's 2013 flagship device. Even though it is more than 1 year and a half old, it still has excellent specifications. If you are planning on keeping your Samsung Galaxy S4 but want some of the features on the Note 4, you can begin by installing the official Accuweather weather widget.
The APK file of Accuweather weather widget of the Samsung Galaxy Note 4 has been ported to the Samsung Galaxy S4. It has all the options and features like the Note 4 variant. You can choose up to 10 cities and you can change the transparency of the widget.
The Samsung Galaxy Note 4 Accuweather widget ZIP file can be installed on the following Samsung Galaxy S4 variants:
GT-I9500
GT-I9505
GT-I9505G
GT-I9506
Downloads
Download Samsung Galaxy Note 4 Weather Widget for Galaxy S4: AccuWeather_Note4_Albe95.zip
Also Read: Install Galaxy S5 Camera on Galaxy S4
Requirements: Android 4.4.4 KitKat ROM
Download the file and put it in your phone.
Boot your Galaxy S4 to Recovery Mode.
Go to Install Zip and choose the weather widget.
Reboot your phone.