Magisk has quickly become one of the most popular methods to root Android devices. Ever since developers released the first build in 2016, it has been the go-to choice for many users who want to root their devices. It is an alternative to the extremely popular SuperSU. However, Magisk has a few advantages over SuperSU which have made it so popular.
Firstly, it roots Android phones using a method named "systemless". This means that it grants root access without changing any system files. This is convenient because it bypasses Google's SafetyNet, which doesn't let users use certain apps if there is root access. There are a few apps such as Snapchat and Pokemon GO that do not work or force close if they detect that the system is rooted. This occurs because they check whether those specific system files have been modified or not. With Magisk, you can use these apps because the files stay intact.
Besides root, Magisk gives users the ability to install various modules to enhance the experience, similar to Xposed Framework. There are plenty of modules that you can choose from. Developer "topjohnwu" has worked tirelessly to create a repo system which makes installing Magisk modules a lot easier. Furthermore, it allows other users and developers to create their own modules as well.
How To Install Magisk Manager To Root All Android Phones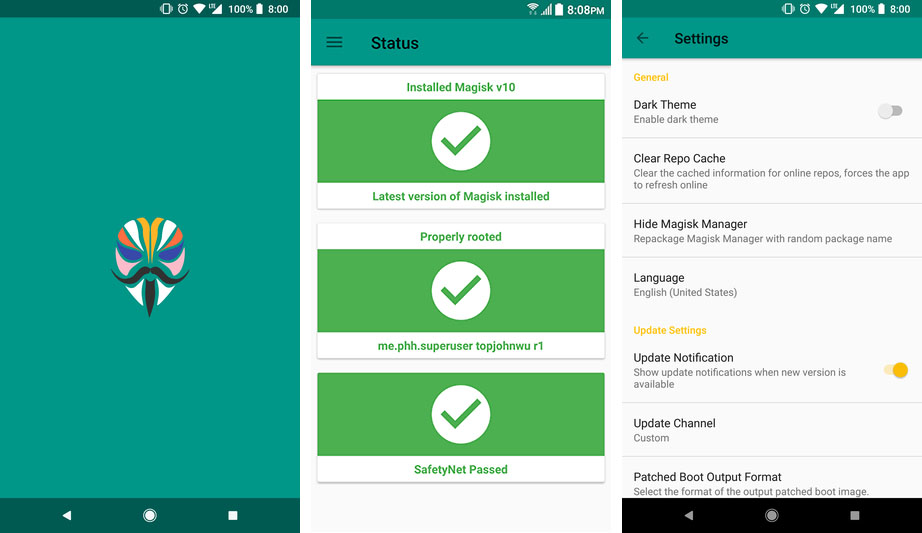 Besides being very easy to install and use, Magisk supports new and old versions of Android. It supports all devices with Android 5.0 Lollipop, 6.0 Marshmallow, 7.0 Nougat, 8.0 Oreo and 9.0 P and all main phone brands including Samsung, LG, Motorola, Nexus, Pixel, OnePlus, Xiaomi and more.
In order to root your phone with this tool, you will need a few things. Firstly, you need the tool itself which is the one that grants root access. You also need Magisk Manager, the app which lets you control the tool. With this app, you can install modules and change other files.
Download
How To Install
You do not need a computer to root your phone. However, you do need a custom recovery in order to flash the tool. In this case TWRP is recommended.
Turn off your phone and go into recovery mode. Make a full Nandroid system backup if something goes wrong (always make a backup of everything before flashing anything).
Flash the Magisk tool zip file.
Restart your phone.
When the phone boots up, you need to install the second part of the tool: Magisk Manager. Head over to the download section of your phone and install Magisk Manager APK file. Once installed, launch the app.
Magisk Manager App
This is where you control everything. When you open the app, it will show you the current version of the app and whether Magisk is installed or not. In this case, it will say that it is installed.
You can use other options from the menu section of the app. You can check your phone's status, access Magisk Hide, search and download new modules to enhance the experience of your device.
That is all you need to do to root your phone using Magisk Manager. It is a very easy way to unlock your phone's full capabilities without triggering Google's SafetyNet or other security measures.