Today, flashing a custom ROM has become a very simple process. Those days when you had to use a good set of tools just to install a ROM are long gone. To install a ROM on your Android phone, you simply have to download the zip file which contains the new firmware, boot into recovery, wipe data and cache to prevent bootloops and click on the install button.
Since the process has become so easy, mistakes that the user can do are minimized. But that doesn't mean that they are gone. Many users accidentally flash the wrong ROM which results into bricking their devices. But there is one problem that happens even when the user does everything correctly.
Also Read: How To Fix Galaxy Note 3 Baseband Unknown & No IMEI number (Corrupted EFS)
Missing EFS Partition and lost IMEI are two common problems that occur when a user installs a ROM. This issue occurs especially on Samsung Galaxy devices. Sometimes, when a new ROM is installed, the EFS folder can get corrupted or lost.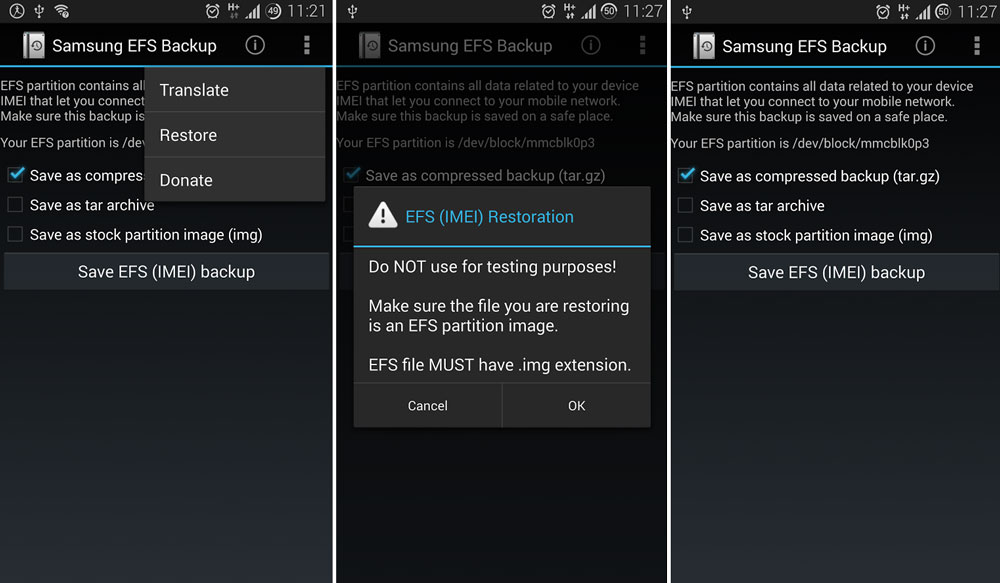 When this happens, the IMEI number is deleted and the phone is no longer able to make phone calls or send text messages because there is no carrier signal.
Also, when you go to the Settings menu and open About Phone, Baseband version is unknown. Basically, the phone cannot be used for the most important feature that a phone has, calling and mobile data.
So, it is highly recommended to make a full backup of EFS folder partition and IMEI number. Some ROMs automatically make a backup but here's the most secure and easy way.
Guide to backup EFS partition folder and IMEI number on Samsung Galaxy with Android OS
Download Samsung EFS IMEI backup app.
Open the app.
There are three options you can choose from: Save as compressed backup (tar.gz), save as tar archive and save as stock partition image.
Tap on Save EFS (IMEI) backup button.
Also Read: How To Fix Galaxy S5 Not Registered on Network Error No SIM Card
Now, when you install a new ROM and the EFS folder gets corrupted, you can easily restore the backed up folder. This app is designed only for Samsung phones and doesn't work on other devices such as LG or Sony.
Not only Samsung Galaxy phones, but even other devices experience corrupted EFS partition and lost IMEI number. There are other methods to backup the files on these devices.