Another day has passed and another device has received a build of Android 5.0 Lollipop. This time, it is the Samsung Galaxy S4. Well, the Snapdragon GT-I9505 variant of the phone. Samsung has a habit of releasing the same device with two different types of processors.
The first variant, GT-I9500 has the octa core Exynos processor and Mali GPU while the second variant, the GT-I9505 has the quad core Snapdragon processor and Adreno GPU. Both of variants are very fast and you will be pleased with any of them.
Also Read: Samsung Galaxy Note 4 Weather Widget for Galaxy S4 Download and Install
But, there is one thing. ROMs developed for the Exynos do not work for the Snapdragon variant and ROMs developed for the Snapdragon variant will not work on the Exynos one. If you try to flash a ROM which is not designed for that variant, you will end up bricking the phone.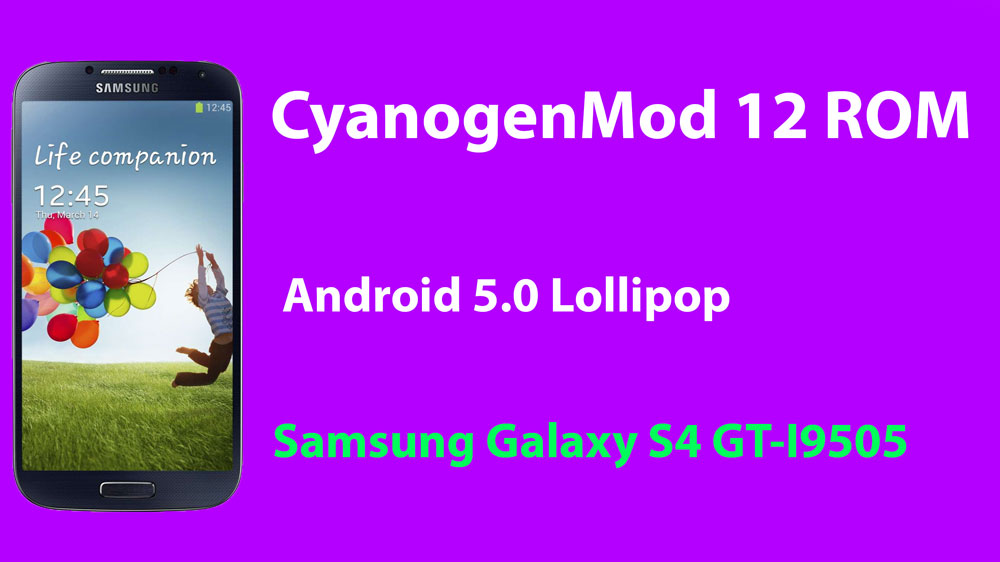 If you have the Samsung Galaxy S4 Exynos GT-I9500 variant, here's the article where you can download and install CyanogenMod 12 ROM.
In this article, we are going to download and install CM12 ROM based on Android 5.0 Lollipop on the Snapdragon GT-I9505 variant of the Galaxy S4.
The ROM is not stable as it is still unofficial. Surprisingly, it is quite stable when considering that is unofficial. Everything is working like phone calls, mobile data, screen, touch, camera and everything you can think of.
The only known issue at the moment is related to the NFC chip. But since the NFC isn't used by many people, it will not be a big problem for many users.
You can see how little bugs the Snapdragon variant has compared to the Exynos variant. This shows how important the source code of every chipset is.
Guide to install CM12 CyanogenMod 12 Android 5.0 Lollipop ROM on Galaxy S4 GT-I9505 Snapdragon
Downloads
Download the ROM and Gapps.
Boot your phone into Recovery mode (Power + Home + Volume Up)
Wipe data and cache so your phone doesn't get stuck at the boot animation logo (bootloop)
Flash ROM.
Flash Gapps
Also Read: Galaxy S4: 5.0 Lollipop vs 4.4.2 Kitkat Touchwiz Comparison
Reboot your phone and wait for it to boot up. Even though there aren't any major bugs, you can still occur problems here and here but as an unofficial ROM, it is quite good.