Thanks to a recognized developer, the original Sony Xperia Z has received a rather stable CyanogenMod 13 ROM. CM13 is a custom ROM based on Android 6.0.1 Marshmallow and is available for a variety of devices, including the Sony Xperia Z.
This build of CyanogenMod 13 is in Alpha stage and is an unofficial build built and maintained by Olivier. Thanks to him all Xperia Z owners can download and install CyanogenMod 13 and enjoy the pure experience that only Marshmallow can deliver.
According to the developer of the ROM, everything is working except the camera app. So you can make phone calls, use Bluetooth, WiFi, mobile data and much more. The only thing that you cannot use is the camera app.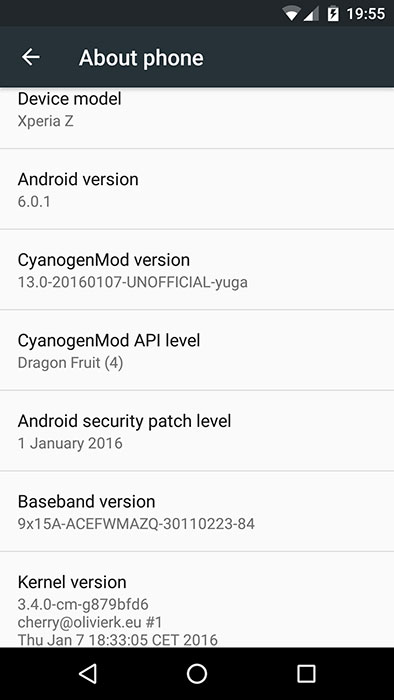 How To Install CyanogenMod 13 Marshmallow ROM on Xperia Z
To successfully flash CM13 on your Xperia Z (yuga), you need to install the latest version of TWRP custom recovery. TWRP is the recovery you are going to use to flash the CM13 ROM and Marshmallow Google Apps. Do not worry. We have included download links for everything you will be needing, including the ROM, Gapps and TWRP recovery.
Once you have installed the latest version of TWRP, download the ROM and Gapps package and move them to your phone's memory storage.
Move both files and then turn the phone off.
Boot your phone into recovery mode. In this case boot into TWRP.
Before you do anything, it is recommended to make a Nandroid backup. To do so, go to 'Backup'.
Now wipe data and perform a factory reset.
Then go back and tap on 'Install' and select the CyanogenMod 13 ROM. Swipe to the left to flash the ROM.
Then select Google Apps and do the same thing to install the package.
Now go back and restart the phone.
Now all you have to do is to wait for your phone to boot up. If you managed to successfully install CM13 on your Xperia Z, let us know below how the experience is. Are there any bugs or is the ROM flawless?