Reportedly, Samsung is working on the new Android 4.4.3 KitKat update for its flagship device, the Galaxy S5 and its predecessor, the Galaxy S4. At this moment, the update status is "Integrating" which means Samsung is adding Touchwiz apps and visuals.
There is still no ETA available from the company but the new firmware will be available just in a few months. While waiting the new Android version for the S5 and S4, there are many other devices that yet haven't received  the 4.4.2 KitKat update.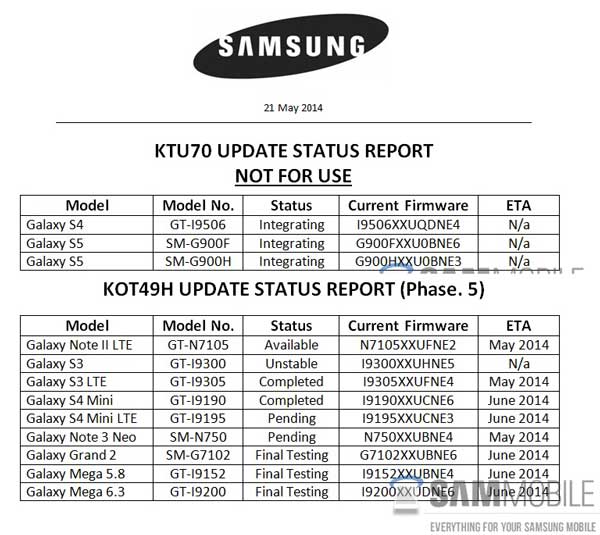 Samsung published a list of devices that are going to get KitKat update. Galaxy Note 2 LTE, Galaxy S3 LTE and Note 3 Neo are expected to receive the new firmware at the end of May. Then, most of the devices will be getting KitKat in June including the Galaxy Grand 2, Mega 5.8 and 6.3, S4 Mini and S4 Mini LTE.
As for the Samsung Galaxy S3, the status still says "Unstable". This is because the device has only 1 GB RAM and the Touchwiz firmware requires more in order for all the bloatware, features and apps that Samsung puts, to work. This is a bad news for all S3 users because all other devices with 1.5 GB RAM will be getting the update.