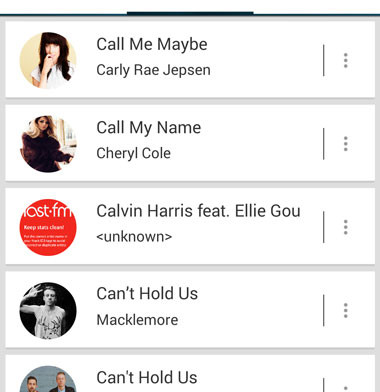 Download Apollo music player with Android L Material Design. Apollo is a popular music player created by the CyanogenMod team, the same people who create and publish nightly and snapshot builds of CyanogenMod custom ROM. Since it is an application developed by CM, Apollo comes as the default music player on CyanogenMod builds.
This is the good thing about CyanogenMod. You don't have to install a lot of applications from the store to make your phone better. CyanogenMod has all the most important applications already installed saving you a lot of time and effort.
Also Read: How To Fix and Make Dropbox Work on Android L
But CyanogenMod still hasn't switched to Android L. That's because Google hasn't officially released the new version of Android just yet. This means that you can't enjoy the new user experience of Android L. When CyanogenMod switches to Android L, it is expected that the builds will be called CyanogenMod 12 or CM12.
Even though CyanogenMod has yet to be updated to Android L, you can download and install some CM applications which have been updated to Material design. One of these applications is Apollo, or to be more correct, an app similar to Apollo.
The application called xPlodMusic is based on the Apollo music player. The user interface is almost the same but it has more features and options. xPlodMusic recently just received an update and now it has latest Android L theme with Material design.
For all you who love Apollo and the new version of Android, this app is the ideal music player. The user interface is the same as Apollo and it has Material Design. The thumbnail of every artist is now circle instead of square and the performance overall is very fast and smooth. There are a few options to choose from like audio visualizer, widget style and tab visibility.
Also Read: Download & Install Android L Dialer App
Download xPlodMusic music player or as known else, Apollo with Material Design here.