How to solve OK Google voice detection not working problem. Google Now is one of the biggest inventions of Android. It was first introduced on Jelly Bean as a direct competitor of Siri. These two virtual assistants were always in race to take the first position as the best virtual assistant.
But back then, Siri was a lot better than Google Now. Siri used to do a lot of things that Google couldn't do. Even when you asked a simple question, Google Now would make a Google search while Siri would give a direct response.
Also Read: How To Install Android L Theme on Google Now Launcher
But those times are long gone and Google Now is a lot better, faster and more interactive now. Google Now of Android KitKat 4.4 is a big improvement over Jelly Bean 4.1. One cool feature recently introduced is hotword voice detection. You  basically have to say "OK Google" and Google Now will automatically open. Even when the phone screen is off and even when you are playing a video game or watching online videos. Saying "OK Google" will automatically activate Google Now.
This is a useful feature especially on those cases where you have to search for something, call someone or create a quick reminder. You don't have to close your current application, find the calendar app and set the reminder. You can do this will Google Now.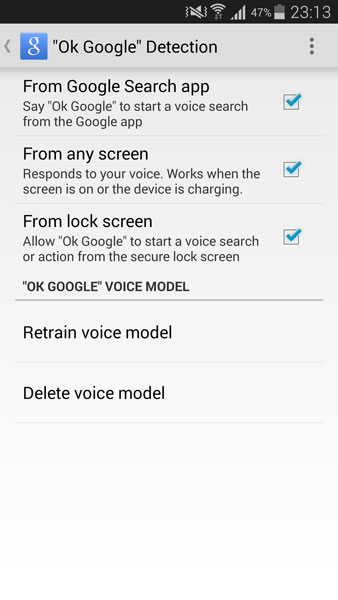 Some users have reported problems with Google Now voice detection. Some phones aren't detecting the "OK Google" phrase. But most of the times, this isn't a software problem. In order to use Google New voice detection, you need to activate it on the settings. Here are a few fixes to solve OK Google voice detection not working.
1. First of all, you need to set the language to English (US). This is the only language where Google Now will work properly. If you have set another language or even English (UK), it will not work.
2. Once you have selected US English, you need to activate "OK Google" detection feature. To do so, open the Google app and go to Settings > Voice > "OK Google" detection. There are 3 options: "From Google Search App", "From Any Screen" and "From Lock Screen".
Also Read: How To Fix 4.4.4 KitKat Email App Has Stopped Problem
If these 3 options are disabled, make sure to enable them all. This way, your phone will recognize your voice every time, even when the phone is locked. On Nexus 5 devices a big problem are Gapps. To fix the problem on the Nexus 5, you have to download the Gapps here and flash the zip file through Recovery.