Download and get calendar app with Material Design Android L theme. Lately, more and more apps for Android phones are implementing Material Design, the new user interface that Google announced on Android L. The new design is a lot different from what we have seen on Jelly Bean and KitKat.
The apps are a lot more colorful with a variety of colors and overall, the user interface is simpler and flatter for the best user experience. You can notice how great the new implementation is on apps which have already received the Material Design. If you want, here is a list of applications and themes you can download with have Material Design and Android L theme:
Also Read: How To Enable/Install Android L Navigation Bar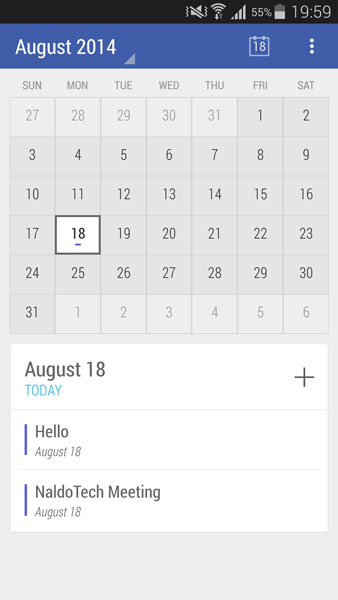 Now, another application has joined the Material family and it is the calendar app. The calendar is one of the most used apps from smartphone users. It isn't used only to show the date but also to set reminders and new events. Now, you can see the date and all your events in a complete new design.
The application has a beautiful design and the user interface is clean, simple and minimal. The main tab which shows the date and the year is blue and the days are in white, which give the app an interesting look. The app has a lot of options and functionalities. You can select events including the event name, event date and your email address.
Also Read: Download Android L Wallpaper, Keyboard, Boot Animation and Font
If you are busy and have a lot of events, you have the search ability which allows you to find the event by its name. If one event has been declined, you can easily hide it. The navigation bar can be translucent as well as the status bar. Download the Android L theme Material Design calendar app here.