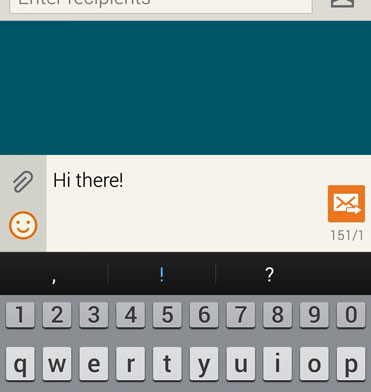 How to make Samsung Galaxy S5 keyboard faster and solve the lag problem. The Galaxy S5, just like every other Galaxy device runs on Android with Touchwiz custom skin. Touchwiz is probably the most bloated skin. It has a lot of features, options and applications which make the firmware heavy and bloated.
Other Android skins like HTC Sense, LG and Sony UI are less bloated than Touchwiz even though they are also full of features and options. The bad thing about Touchwiz being so bloated is that it makes phones very slow, in this case the Galaxy S5.
Also Read: How To Fix Galaxy S5 Screen Display Problems
Touchwiz causes a lot of problems and issues on Galaxy devices. Some of the most recent bugs are screen wake up lag and camera has failed problem. The latest problem that many users have reported is keyboard lag. When you are typing, the keyboard starts to lag, it doesn't recognize your fingers and it doesn't insert the correct letters.
This problem is caused by the Touchwiz firmware. Here are a few solutions to fix the Galaxy S5 keyboard lag problem.
Wipe data and cache of the keyboard application
The first thing you should do when you experience problems with a certain app is to wipe data and cache. This refreshes the app and fixes any possible problems and bugs. Go to Settings > Apps > Keyboard and click wipe data.
Factory reset the phone
If wiping data of the app doesn't work, make a full reset of your phone. This will delete all installed applications. To make a factory reset go to recovery and select wipe data and factory reset.
Also Read: Download Official Samsung Galaxy Note 4 Wallpapers
Install third-party keyboard apps
The stock keyboard application of the Galaxy S5 is not the only solution. You can download other keyboards from the Play Store which are faster and have more features than the stock keyboard like Swfitkey.