Pixel 5 and Pixel 4a 5G are Google's two latest flagships. Unlike previous flagships, Pixel 5 does not have top of the line hardware specifications. It has the Snapdragon 765 chipset which is a very good performer, but not as good as the high-end Snapdragon 865. The phone comes with 8GB of RAM, 128GB of internal storage, a dual-camera setup on the back, and a sizeable 4080 mAh battery. These are all respectable specifications.
The one thing Google does well with the Pixel lineup is the software. Google is unrivaled when it comes to software. The company creates some of the best Android apps for its Pixel lineup. Some of these apps are Google Camera 8.0 and Google Recorder 2.0. You can already download the APK files for both apps and install them on your phones.
Pixel 5 Launcher – Preview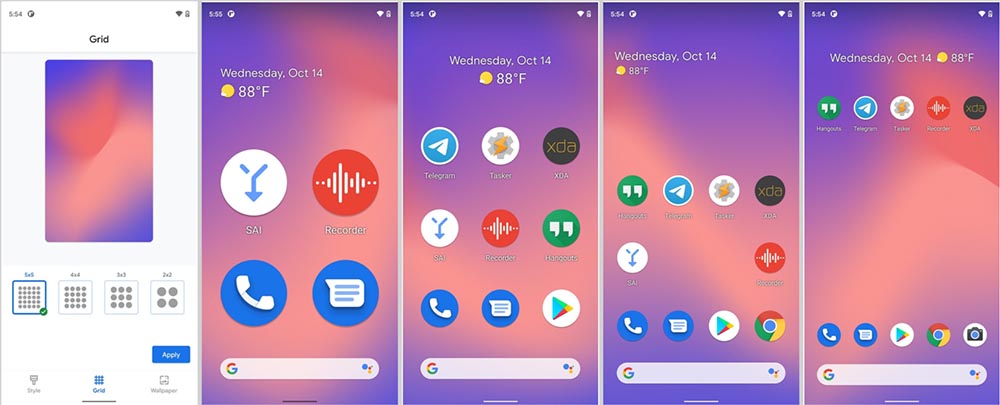 Now we have another app from Pixel 5: the Android 11 Pixel launcher. XDA managed to grab a copy of the Android 11 factory image of Pixel 5 and extract the Pixel launcher APK file.
The new version of the Pixel Launcher comes with some new features. To start with, there is a new grid size customization option. This allows users to customize the grid size layout of the home screen. This feature was long overdue, considering that other phones already have this feature for a long time.
To change the home screen grid layout, long-press on an empty part of the screen. Select Grid Tab and choose from one of the following options: 5×5, 4×4, 3×3, and 2×2.
Download Pixel Launcher APK from Pixel 5
The APK file is a direct extract from the Android 11 factory image. The app is supposed to work only on Pixel 5 and Pixel 4a 5G. But the file has been tested on a number of other Pixel phones and it works without any issues. It works on Pixel 4 and 4 XL, Pixel 3 and 3 XL, and all Pixels running on Android 11.
Download the APK file and copy it to the internal storage of your phone. Go to File Manager and tap on the file to install it. If the phone gives you a warning, you need to enable Unknown Sources. Then tap on Install. Once the app is installed, go to the home screen to check out the brand new Pixel 5 launcher app.